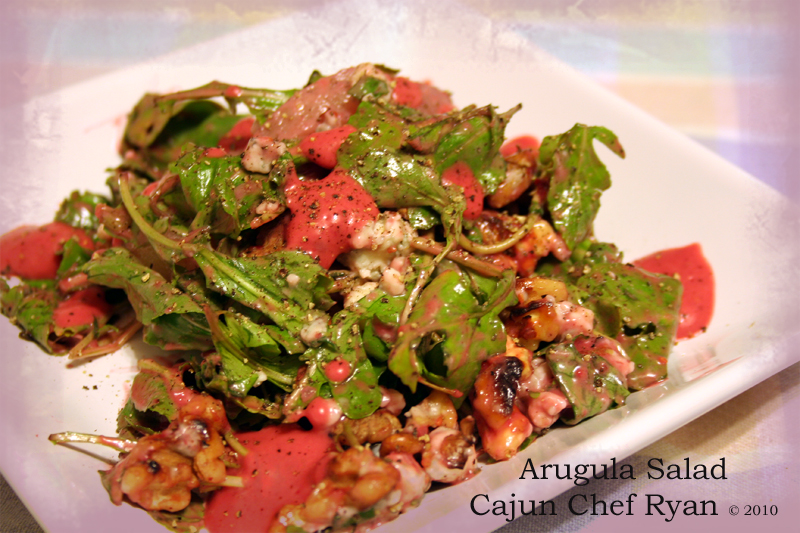 With two fresh arugula plants in the ground for our first 4'x10' garden plot, we have plenty of the wonderful tasting tender leafy green just outside our front door. Since it was hard to find any good ripe pears in our local stores we opted for canned pears, but fresh would be preferred if they were available from local sources. The grown for shipping variety is so hard, tasteless, and has a grainy texture it is just a waste of hard earned money to wait to ripen, just to see it turn to mush and have to toss it into the kitchen compost bin. We can find cheaper compost material for sure!
This salad is quick, easy, and tasty, but even tastier when using fresh from the garden ingredients.
Toasting the walnuts in a small sauté pan over a medium heat adds another flavor dimension to the salad, I liken it to the toasted almond slivers I like to add into my spinach salads. Same technique, different ingredients.  Just take your walnuts and toss them every few minutes in a small sauté pan, or you can roast them in the oven set at 375° F on a sheet pan for about 20 minutes, turning half-way through process, or until lightly browned. The Creamy Raspberry Vinaigrette Dressing is lightly tossed with the ingredients for a splendidly refreshing salad.
Ingredients
8
Oz
Arugula leaves, washed and dried
2
Oz
Walnut pieces, toasted
2
Oz
Gorgonzola cheese, crumbled
1
Each
Pear, sliced into with portions
¼
Tsp
Cracked black pepper, fresh ground
Procedure Steps
1.
Toss the arugula with the walnuts, gorgonzola cheese, and pear slices then coat evenly with about ¼ cup of the Creamy Raspberry Vinaigrette Dressing and toss well.
2.
Evenly portion the salad between two plates and add more dressing for garnish.