As I promised in my previous post I am continuing my story about the Tortoise and the Hare inspired more by our evening walk and sightings of both rabbits and a turtle in our neighborhood than the famous fable attributable to Aesop. Our sightings of both have inspired me to pull out a few recipes that feature them individually and most famously of the two is Turtle Soup.  The soup is still served today in many of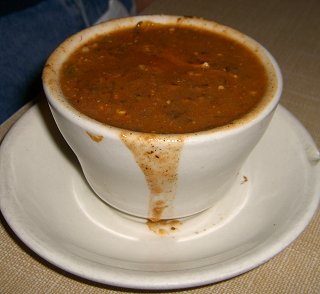 the old school New Orleans restaurants such as Brennan's and Galatoire's. This recipe is adapted from one that I prepared at the Hyatt Regency Hotel in New Orleans when I slung around in the Saucier position of the main kitchen. For those who are unaware, the Saucier is a part of the kitchen brigade staff and has the sole duty of preparing all of the stocks, soups and sauces for the restaurant or hotel kitchen. Being the saucier was the most exciting position for me during my apprenticeship. The original recipe at the Hyatt yielded about 16 gallons of this fine soup, and which called for 60 pounds of turtle meat and 20 of ground beef. I have rewritten the recipe for a modest yield of around 2 gallons. This is a hearty recipe where each serving contains about 4 ounces of protein, if you want to lighten up the recipe you could cut the turtle meat and ground beef by 1/2 the amount. To make a "Mock Turtle Soup" eliminate the turtle meat and substitute it with ground turkey meat. Today turtle meat is obtained from the Chinese Soft Shelled Turtle.1
 Turtle Soup
| | | |
| --- | --- | --- |
| 3 | Ounces | Margarine or Butter |
| 1/4 | Cup | Garlic, minced |
| 1 | LB | Onions, ground |
| 1 | LB | Celery, ground |
| 1 | LB | Bell pepper, ground |
| 6 | LB | Turtle meat, ground |
| 2 | LB | Ground beef |
| 1/4 | Tbsp | Thyme, rosemary each |
| 1 | Each | Bay leaves |
| 1 | Tsp | Cayenne pepper |
| 1 | Gal | Beef stock |
| 3 | Each | Eggs, hard boiled, chopped |
| 1 | Each | Lemons, ground |
| 1/2 | Cup | Sherry |
 Procedure Steps
Heat margarine until hot and sauté the garlic until aromatic then add the onions, celery, and bell peppers and cook until soft.

Add the turtle meat and ground beef and cook out the fat then drain.

Add the spices and stir well then add the beef stock and bring to a boil then reduce to a simmer and allow this to simmer for 1 hour.

About 15 minutes before service add the chopped egg, the ground lemons for garnish and then the sherry and stir well.
---
References
1. Forest Soft-shell Turtle (Dogania subplana)