Luxury Fall Dinner Party
Making it through to the third round of the Foodbuzz Project Food Blog challenge presented by Buick Lacrosse, is both humbling and exciting, but most importantly an honor to be among the next group of two-hundred food bloggers participating in the contest. I also want to thank everyone who has voted for me in each step of the way, your support is amazing, and I hope to continue to inspire with my contributions.
Fall has finally caught up with the season of change here in our part of the country, temperatures are dropping, leaves are falling, and clear brisk air is whipping around. With the fall season comes a crop of seasonal bounty with fruits and vegetables, all which is the inspiration for the menu I have selected in the luxury dinner party challenge. From acorn squash, carrots, apples, in the soup, Vermont cheddar and fresh rosemary in the bread sticks, to pumpkin seeds, goat cheese, artichoke hearts, pears, and Belgian endive inspiring the entrée, and finally, bourbon, sweet potatoes and walnuts with the dessert.
I will also give you some organizing notes and tips at the end of the recipes that will help you in planning a similar menu for your home, some tips are recipe specific, and some are planning tips for multi-tasking in the kitchen.
Monique decorated and set the table and decorations, the lovely Fall table cloth, place mats, napkins and seasonal decorations. When she pulls out the seasonal decorations it is a sure sign that the holidays are just around the corner. Thank you so much Monique for setting up a great dining room!
So please sit back, relax, and enjoy the Cajun Chef Ryan Luxury Fall Dinner Party!
This three course meal actually includes seven separate recipes to complete, so without further ado, I present you with the recipes for the Luxury Fall Dinner Party.
---
For the first course I chose to do a fall soup, Acorn Squash Soup to be exact, and once dinner was served the comments from the guests included how they could really taste the fall flavors in the soup, which, our guest Heather said it reminded her of how fall would taste if it were put into a bowl. These were such nice comments on this, the first course – soup.
Getting Started
Acorn Squash Soup
Roasted acorn squash, carrots, onions, leeks, Granny Smith apples, and holiday spices blended with cream and served with Vermont Cheddar Rosemary Bread Sticks
Acorn Squash Soup
Ingredients
3
Each
Acorn squash, halved, seeds removed
1
Tbsp
Olive oil
3
Each
Carrots, chopped
1
Each
Granny Smith apple, cored and chopped
1
Med.
Onion, chopped
1
Med.
Leek, cleaned and chopped
½
Tsp.
Ginger, ground
¼
Tsp
Allspice, ground
4
Cups
Chicken or vegetable stock
1
Cup
Heavy Cream
To taste
Salt and white pepper
1
Tbsp
Parsley, chopped
Procedure Steps: Preheat oven 350° F.
1.

On a baking sheet, place the acorn squash, cut side down, and then add a little water and cover with foil, then roast until soft, about 45 minutes. Allow to cool, and then scoop out the squash flesh and set aside.

2.

In a soup pot, heat olive oil over medium high heat. Saute the carrot, apple, onion, and leek in the olive oil until soft, stirring occasionally, then season with ginger and allspice, and then add the squash and the chicken stock. Bring to a boil while stirring well, and then reduce heat to a simmer over low heat for 20 – 30 minutes, stirring occasionally.

3.
Remove the pot from the heat and puree with a hand-held immersion blender. Alternatively, in batches, puree in a blender or food processor until smooth and return to the pot.
4.
Stir in the heavy cream and simmer for another 5 minutes then and keep warm.
Yield: 8 to 10 servings.
To Serve: Remove the soup pot from the heat and ladle the soup into bowls, then garnish with fresh chopped parsley and serve with the warm bread sticks.
Vermont Cheddar Rosemary Bread Sticks
Ingredients
1½
Cups
All-purpose flour, unbleached
½
Cup
Cornmeal
1
Tbsp
Baking powder
½
Tsp
Sea salt
¼
Lb.
Butter, unsalted (1 stick), cold, diced
4
Oz.
Vermont Cheddar cheese, shredded
1½
Tbsp
Rosemary, fresh, chopped
½
Cup
Skim milk, non-fat
1
Tbsp
Honey
Procedure Steps: Preheat oven to 425°F.
1.
Stir together the flour, cornmeal, baking powder, and salt
2.
Place the dry ingredients in the bowl of a food processor, then add the cold cut butter, and process until the mixture has the consistency of coarse meal. Turn out the mixture into a large bowl, and then stir in the cheese and rosemary. (NOTE: If you do not have a food processor cut the butter into the dry mixture using two knives in a crosscut fashion.)
3.
Combine the milk and honey in a separate bowl, make a well in the dry ingredients, and then pour the liquid mixture into the flour mixture, stirring with a large spoon until a soft dough forms. Work quickly and do not over mix.
4.

On a lightly floured surface, knead the dough for about ten strokes.

5.

Using a rolling pin roll out the dough in a rectangle until it is about 1/2-inch thick. Using a sharp knife, cut out sticks of dough 1/2-inch wide. Twist them into a spiral and space them about 1/2-inch apart on two un-greased baking sheet pans. Gather up the scraps, gently form into another rectangle, and cut, and then place on the sheet pans.

6.
Bake the bread sticks in the preheated 425°F oven for 15 minutes or until the tops are golden brown.
Makes about 20 bread sticks.
TIP: The bread sticks can be prepared, and placed on the sheet pan and covered with plastic wrap and refrigerated up to 4 hours before baking time. When ready to serve, have the pre-heated oven ready and place the sheet pans in the oven about 25 minutes before you are ready serve the soup.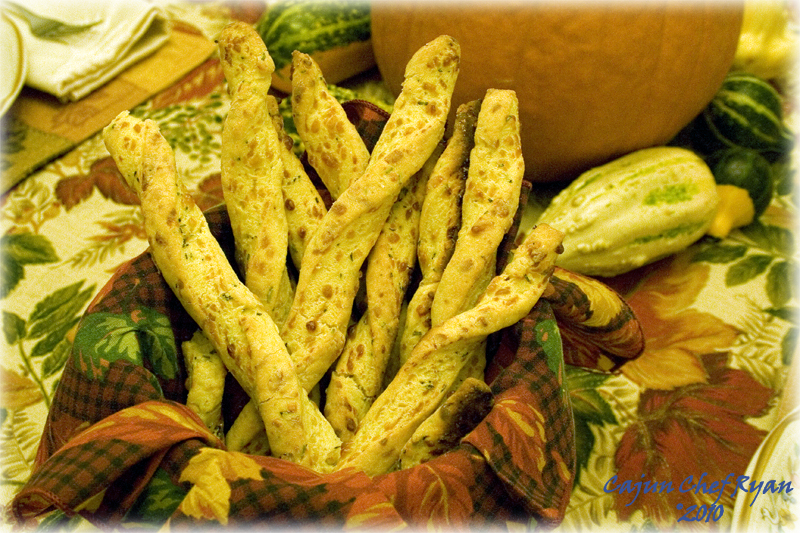 ---
For the second course I chose to do a chicken breast which is encrusted with pumpkin seeds seasoned with my Cajun spice blend, then sautéed in butter and served with an Artichoke Beurre Blanc sauce, which is one of my variations on the classic French white wine butter sauce. I also selected to do a side item of Braised Belgium Endive with Pears. Our guest Tony said that the chicken was seasoned perfectly, not too spicy, but the subtle hints of Cajun spice added a really nice touch. Dawn said that the chicken was so moist and tender, and the crunchy texture of the crust was amazing. And our guest Cherie said "Wow, look at this, the garnish is so nice" when I served her plate.
The Main Event
Pumpkin Seed Crusted Chicken Breasts with Cajun Artichoke Beurre Blanc
Boneless chicken breasts stuffed with goat cheese, then sautéed with a pumpkin seed Cajun spiced crust, and served over Cajun artichoke hearts in a white wine butter cream sauce
Served with a side of Braised Belgian Endive and Pears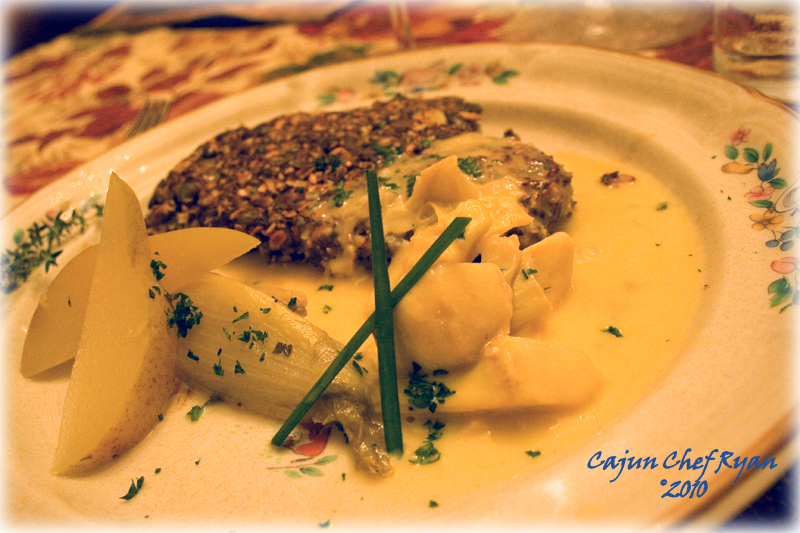 Pumpkin Seed Crusted Chicken Breasts
Ingredients
4
Each
Boneless chicken breasts
8
Ounces
Goat cheese, cut into four even pieces
2
Cups
Pumpkin seeds, toasted
1
Tbsp
Cajun spice blend
2
Tsp
Thyme, fresh chopped
½
Tsp
Garlic salt
2
Large
Eggs, beaten
¼
Cup
Milk
2
Cups
Flour, seasoned with salt and white pepper
¼
Cup
Clarified butter
To taste
Salt and white pepper, divided
Procedure Steps
1.
Cover the chicken breasts with plastic wrap and flatten slightly with a mallet. Then cut a slit into each chicken breast and stuff them each evenly with two ounces of goat cheese. Season the outside lightly with salt and white pepper and reserve.
2.
Place toasted and cooled pumpkin seeds in the bowl of a food processor and grind, leaving them a bit chunky, and then add the Cajun spice blend, thyme, and garlic salt. Transfer this to a large bowl.
3.
Combine the beaten egg with the milk and then transfer this mixture to another large bowl to make the egg wash.
4.
Combine the flour with the salt and white pepper and into a third large bowl.
5.
Take the stuffed and seasoned chicken breasts and dip them first into the flour mixture, then the egg wash mixture, and finally into the pumpkin seeds, shaking off any excess coating, but ensuring an evenly well coated piece of chicken.
6.
Sauté the coated chicken breasts in the clarified butter for 4-5 minutes on each side or until golden brown. Serve with the Cajun Artichoke Beurre Blanc sauce (see below)
TIP: The chicken breasts can be breaded ahead of time and placed on a parchment paper lined sheet pan, then covered in plastic wrap and refrigerated for up to 1 hour before sautéing.
Cajun Artichoke Beurre Blanc
Ingredients
½
Lb.
Butter, softened, divided
1
Tbsp
Shallots, minced
1 ½
Cups
Artichoke hearts
1
Tsp
Cajun spice blend
½
Cup
White wine
1
Tbsp
Lemon juice
To taste
Salt and white pepper
Procedure Steps
1.
Cut butter into small cubes and bring to room temperature.
2.
In the meantime, coat a sauté pan with just a little butter and then sweat the shallots until soft, and then add the artichoke hearts and Cajun spice blend and allow the artichokes to soften up for about 3 to 5 minutes.
3.
Add the white wine and lemon juice and bring to a simmer, then reduce to almost dry, or au sec.
4.
Remove the pan from the heat and slowly stir in the butter cubes until smooth a smooth and creamy consistency, then season to taste with the salt and white pepper.
TIP: This sauce will not keep for long as the butter will solidify within 30 – 40 minutes. To keep the sauce at the proper consistency, you can place it into a double boiler with a lukewarm water bath that is kept at around 76° F. or room temperature.
Braised Belgian Endive and Pears
Ingredients
3
Tbsp
Butter
1
Tbsp
Sugar
4
Heads
Belgian endive, brown and damaged leaves removed, halved lengthwise
1
Each
Pear, cored, sliced into 16 segments
¼
Cup
White wine
½
Cup
Chicken stock
1
Each
Lemon, juiced
1
Tsp
Thyme leaves, chopped
To taste
Salt and white pepper
1
Tbsp
Fresh parsley, chopped
Procedure Steps
1.
In a large sauté pan melt the butter over medium heat. When the butter is melted, sprinkle in the sugar and stir well to dissolve.
2.

Place the endive in the butter-sugar mixture, cut side down. Cook until golden brown, about 5 minutes, lowering the heat if the butter starts to burn.

3.

Turn the endives over and brown the other side, about 3 to 5 more minutes. Turn the endive back over and add the pear slices, then add the white wine and cook until reduced by half, about 2 minutes.

4.
Add the chicken broth, cover and cook until tender and the endives can be easily pierced with a knife, about 15 minutes. If the pan gets too dry, add a tablespoon of water.
5.
Uncover and add the lemon juice and thyme and bring to a simmer for 1 minute. Season, to taste, with the salt and pepper. Add the parsley, toss and serve.
TIP: If holding the endives before service, transfer them to a heat-proof dish and cover, then keep in a warm oven at 170° F.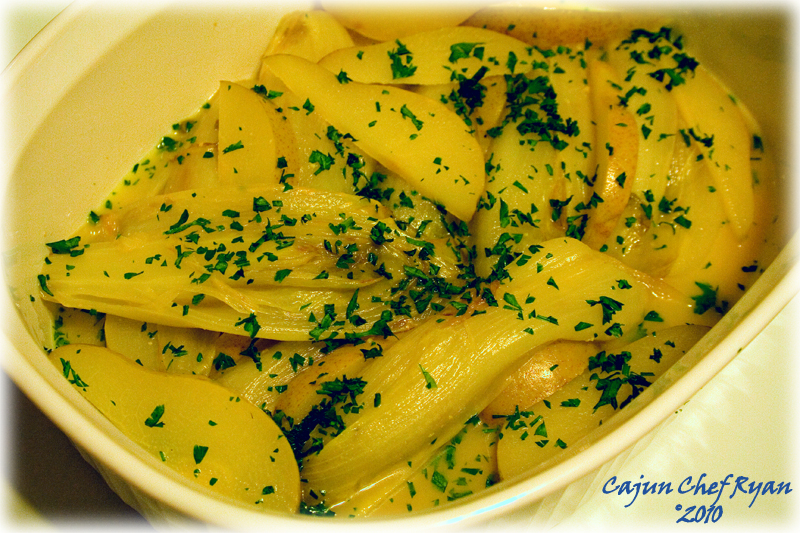 ---
The third and last course is a dessert recipe inspired from a classic Southern side dish served at many a Thanksgiving and Christmas feast. These Bourbon Sweet Potato Cupcakes takes it inspiration from a Bourbon Sweet Potato Casserole that I make every year, and is always a hit, most folks say that it is so sweet it could be a dessert. Here is the dessert treat inspired from a holiday classic side dish, Bourbon Sweet Potato Cupcakes.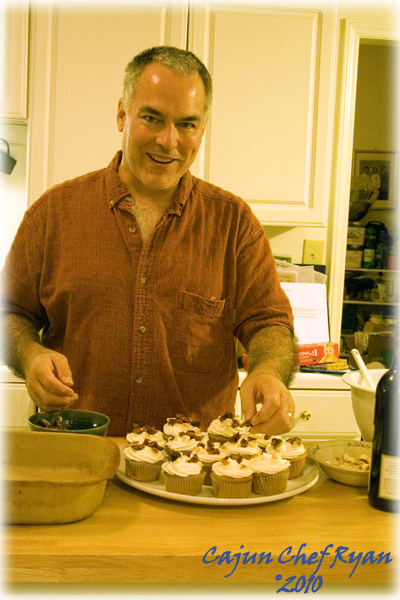 After a short intermission and rest, I went ahead and iced and decorated the cupcakes, I gave Cherie my camera with instructions to snap a few of me icing and decorating. Once a few more final snaps were taken, we served the final course, and everyone went silent. Then Tony said that he really liked the way the bourbon was in the icing and how the explosion of the liquor flavor coated the entire palate. I decorated the cupcakes with the icing, then topped with some toasted mini-marshmallows, candies walnuts, and praline brittle.
A Sweet Finish
Bourbon Sweet Potato Cupcakes
Sweet potato cupcakes with a Bourbon Cream Cheese Icing
Bourbon Sweet Potato Cupcakes
Ingredients
1
Cup
Un-bleached, All-purpose flour
1
Tsp
Baking powder
½
Tsp
Cinnamon, ground
¼
Tsp
Baking soda
¼
Tsp
Salt
½
Cup
Butter, un-salted, softened>
¾
Cup
Sugar
2
large
Eggs
1
Tbsp
Bourbon
1
Cup
Sweet potatoes (unsweetened), mashed
½
Tsp
Vanilla extract
1
Recipe
Bourbon Cream Cheese Icing, see below
Procedure Steps
1.
Preheat oven to 350 degrees F. Line twelve 2-1/2-inch muffin cups with paper bake cups; set cups aside.
2.
In medium bowl stir together the flour, baking powder, cinnamon, baking soda, and salt; set aside.
3.
In large mixing bowl beat butter with an electric mixer on medium to high speed for 30 seconds. Add sugar and beat on high speed until light and fluffy, about 2 minutes. Add eggs, one at a time, beating on low speed after each addition until combined. Add sweet potatoes, Bourbon and vanilla, beating until combined. Add flour mixture; beat until combined (batter will be thick).
4.
Divide batter evenly among prepared muffin cups. Bake about 20 minutes or until tops spring back when lightly touched. Cool in pan on wire rack for 1 minute. Remove from pan and cool completely.
5.
Using a pastry bag fitted with a large star tip, pipe the frosting on top of the cupcakes. Or if you do not have cake decorating tools, place Cream Cheese Frosting in large resealable plastic bag. Cut a 1/4-inch opening in one corner of bag, then pipe frosting on top of cupcakes. This recipe makes 12 cupcakes.
Bourbon Cream Cheese Icing: In large mixing bowl beat four ounces cream cheese (1/2 package), softened, and 1/3 cup butter, softened, with electric mixer on medium speed for 30 seconds. Add 2 tablespoons bourbon and beat until combined. Beat in 4 cups powdered sugar, about 1/2 cup at a time, until smooth and of a good piping consistency. This is enough icing for twelve cupcakes, plus a little left over.
Make Ahead Tip: Freeze unfrosted cupcakes in airtight containers up to 1 month. Store frosting in an airtight container in refrigerator up to 3 days.
Decorating Tips: For the toasted mini-marshmallows I greased a sheet pan and stood up about 50 or so of them and then browned under the broiler for several minutes, keeping a close eye on them so they would not burn. Once cooled I transferred the toasted mini-marshmallows to a small bowl. For the candied walnuts and brittle, I took about 2 tablespoons of butter and melted it with about 2 tablespoons of sugar then added about 1 cup of walnut pieces and cooked them all down on a high heat, stirring constantly until toasted and a praline-like consistency. Then I poured out the walnuts and sauce onto a sheet pan lined with wax paper. Once cool I transferred the candied walnuts and then broke up the praline brittle into small pieces.
Menu Planning and Meal Preparation Tips
Get all your recipes together and start building your grocery list, some items you may have on hand and some you will not. List all the ingredients, some will be found in several recipes, just keep adding the total amounts you will need. Once you have all the ingredients listed and totaled up the quantities go to your pantry and kitchen and start crossing out the items you already have on hand to cover the meal. The items you did not cross out will make up your grocery list.
For this meal you can knock out several items in one step by combining steps. For example, you can roast the acorn squash and bake the cupcakes at the same time in the 350° oven. Typically I will start with making the dessert first for any meal. Set your oven temp to pre-heat, then while you have your acorn squash roasting in the oven you can start preparing the cupcake batter recipe, and start baking them in the oven, you will have knocked out the start of two recipes using the oven for both. In fact you can roast the acorn squash and bake the cupcakes several days in advance of the dinner party, this will be a great jump start when the day of the party arrives.
You can get all your vegetable chopping done ahead of time also, prep for the soup can be done a day or so ahead, just be sure to wrap all the items well and refrigerate. Chopping and storing all the fresh herbs can also be done a day ahead. Having all your items chopped and ready to go when it comes time to put together all the recipes will save you a lot of time when putting it all together.
I hope you have enjoyed this post entry as much as we and our guests enjoyed this meal with the Fall Luxury Dinner Party.
Enjoying a world of cuisine one fork full at a time!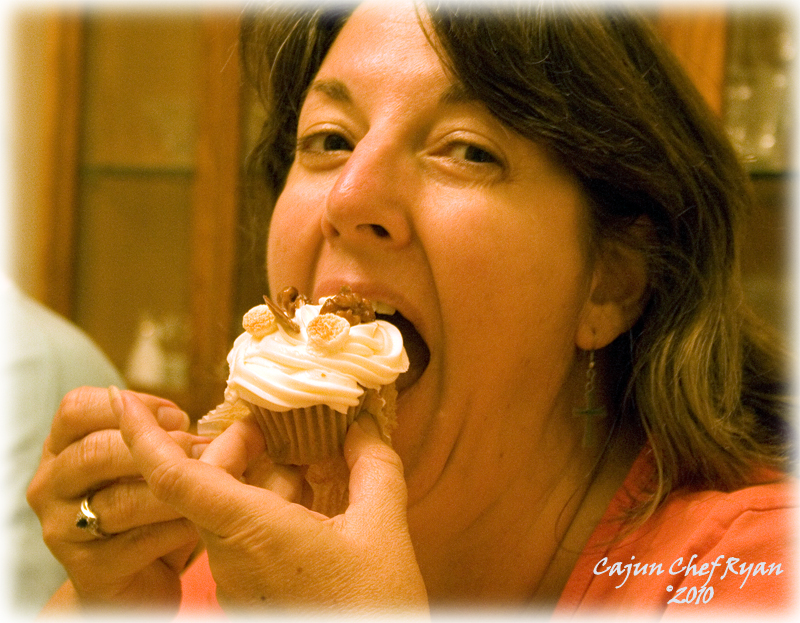 More photos from the evening…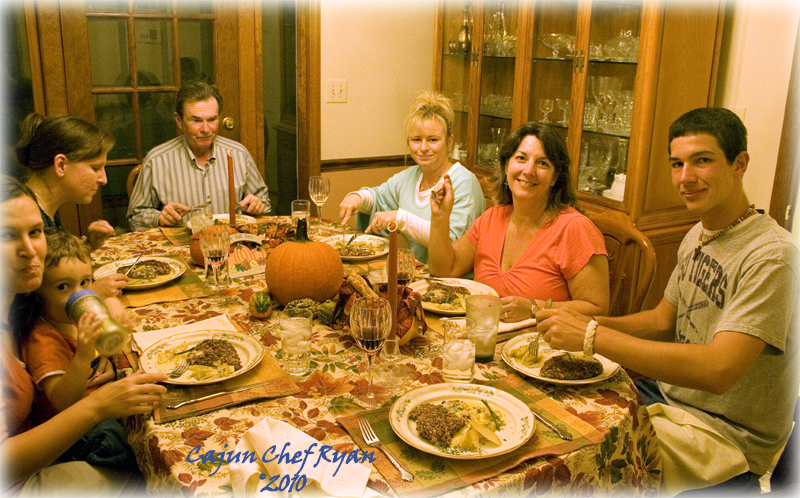 Continuing to enjoy a world of cuisine, one fork full at a time!
Bon appétit!
CCR
=:~)
©2010 CCR