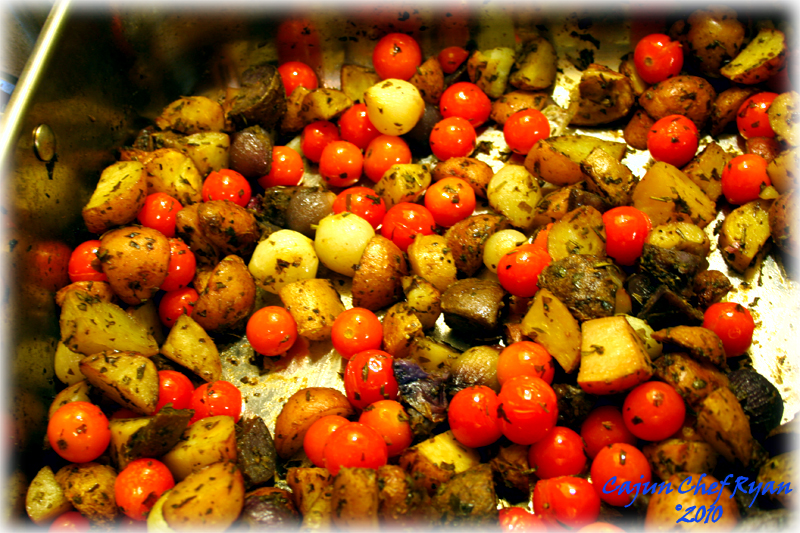 These are some of the best roasted potatoes you will ever lay on your dinner plate! With the fresh herbs from the garden, pearl onions, whole crushed garlic cloves, and finished with grape or cherry tomatoes, these roasted new potatoes will be a welcome side dish to any meal.
Ingredients
30
Each
New potatoes
1
Large
Head garlic, cloves peeled and left whole
2
Cups
Pearl onions, peeled
1
Tbsp
Olive oil
2
Tbsp
Fresh rosemary, chopped
1
Tbsp
Fresh thyme, chopped
1
Tbsp
Fresh oregano, chopped
2
Cups
Cherry or grape tomatoes
To taste
Salt and black pepper
Procedure Steps: Preheat oven to 400º F.
1.
Clean the potatoes and cut into bit sized pieces about 1-inch in size and place into a large bowl.
2.
Smash the garlic cloves with the side of a chef knife to release some flavor, then toss them with the potatoes. Then add the pearl onions, olive oil and fresh chopped herbs. Toss well and season with salt and pepper to taste. 
3.
Transfer the ingredients to a 9X13-inch roasting pan, and roast in the oven for 20 minutes, remove from oven and stir, then return to oven for another 20 minutes, remove and stir again. Test a few potatoes with the tines of a fork, when the potatoes are tender, then add the tomatoes and stir well. Return to the oven and roast another 5 minutes.
Yield: 6 to 8 servings
Dinner is served …another view…
Oven Fried Catfish recipe
Bon appetite!
CCR
=:~)
©2010 CCR