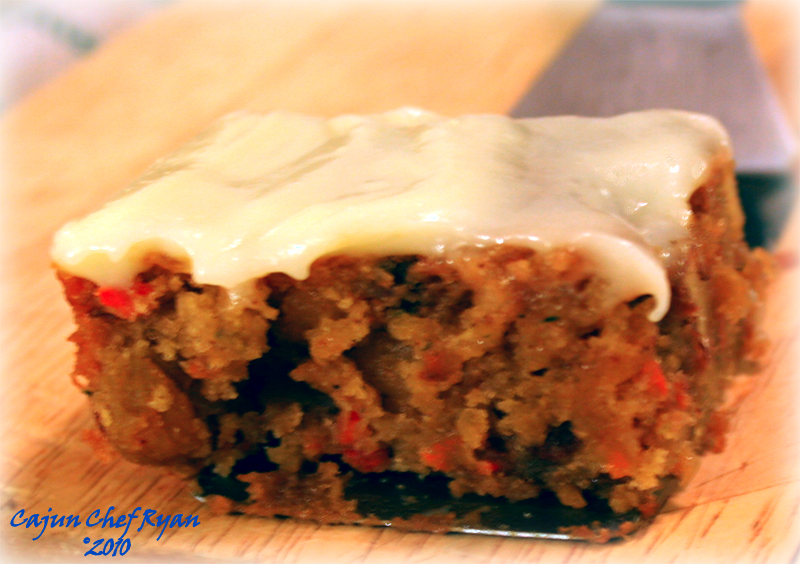 This is another 9×13-inch baking pan recipe, which, in our opinion is one of the most versatile pieces of kitchen equipment in our home next to our slow cooker crock pot.
Therefore, if you love carrot cake, you will love this moist and delicious version with the rum soaked raisins and zucchini.
TIP: The raisins are soaked in dark rum for at least one hour before mixing into the wet and then dry ingredients, however, for better rum flavor soak them overnight, or to speed up the process the raisins and rum can be heated over a low heat for several minutes, then allowed it to cool at room temperature.
Ingredients
¾
Cup
Raisins
½
Cup
Dark rum
1 ½
Cups
Flour, all-purpose
1
Tsp
Baking powder
½
Tsp
Ginger, ground
¼
Tsp
Baking soda
2
Large
Eggs, beaten
1 ½
Cups
Carrots, grated
1
Cup
Zucchini, grated
¾
Cup
Brown sugar, packed
½
Cup
Walnuts, chopped
½
Cup
Vegetable oil
¼
Cup
Honey
1
Tsp
Vanilla extract
8
Ounces
Cream cheese, softened
1
Cup
Powdered sugar
1
Tsp
Orange or lemon peel (optional)
Procedure Steps
1.
Put the raisins in a small bowl and add the rum, allow them to soak for at least 1 hour or overnight (See tip above). Preheat oven to 350° F when using a metal baking pan, or 325° F if using a stoneware or glass baking dish.
2.
In a large bowl combine the flour, baking powder, ginger, and baking soda. In a separate bowl combine the beaten eggs, carrots, zucchini, brown sugar, walnuts, oil, honey, vanilla, and the rum soaked raisins.
3.
Add the wet mixture to the dry mixture and stir until just combined. Spread the wet batter evenly into an ungreased 9×13-inch baking pan or baking dish.
4.
Bake for 30 minutes, or until a toothpick or cake tester inserted in the center comes out clean. Remove from the oven and cool in the pan on a wire rack.
5.
While the cake is cooling, combine the softened cream cheese and powdered sugar in a medium bowl and beat with mixer until fluffy and creamy, stir in optional fruit zest. When the cake is room temperature, frost the top then cut into 36 portions.
Another view…
Bon appetite!
CCR
=:~)
©2010 CCR