One of the staple food items at the New Orleans Jazz and Heritage Festival is Crawfish Bread, and some years a booth will also sell Crawfish Meat Pies. This year as usual Mrs. Wheat's Foods is selling them again. There are actually eighteen ways you can eat crawfish this year at the Fest, including the bread and pie I mentioned above,  and  there is the Crawfish Sausage Po-Boy, Crawfish Bisque, Crawfish Remoulade, Louisiana Crawfish Po-Boy, Boiled Crawfish (Suck da Head, Peel da Tail), Crawfish Sack, Crawfish Beignets, Louisiana Crawfish Etoufee, Cajun Crawfish Rice, Fried Crawfish Tails, Crab and Crawfish Stuffed Mushrooms, Crawfish Enchilada, Crawfish Strudel, Spicy Crawfish Sushi Roll, Crawfish Spinach and Zucchini Bisque, and the ever famous Crawfish Monica.
This is a short promotion video for this year's musical line up at the Fest!
A few images of the pies straight out of the oven!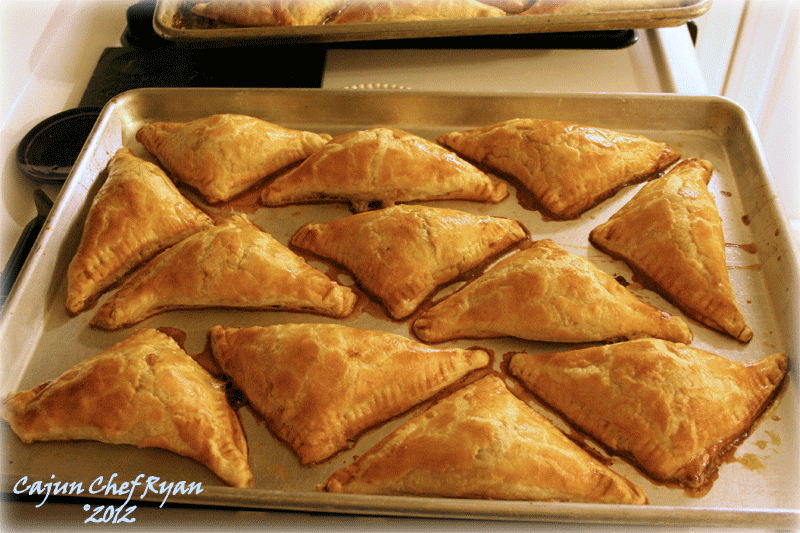 Crawfish Pies cooling!
Crawfish Pie close up and personal!
Another Fest promotion video!
The Recipe!
Ingredients
1 ½
Lbs.
Crawfish tail meat
½
Lb.
Shrimp, chopped
2
Cups
Onions, chopped
1
Cup
Bell pepper, chopped
1
Cup
Celery, chopped
6
Cloves
Garlic, minced
4
Ounces
Bacon, diced
1 ½
Lb
Cream cheese, softened
1
Cup
Cheddar cheese, shredded
2
Tbsp
Finger Lickin Rub, divided
½
Stick
Butter (4 ounces)
¼
Cup
Flour
1
Cup
Chicken stock, room temperature
½
Cup
Parsley, chopped
½
Cup
Green onions, chopped
2
Large
Eggs, beaten with ¼ cup water
2
Packages
Puff Pastry Dough
Procedure Steps:
1.
Have all the ingredients prepped as listed above. 
2.
In a large skillet cook the bacon over medium heat until crisp. Then add the butter and melt, then add in the onions, bell pepper, celery, and 1 Tbsp of the Finger Lickin Rub, and sauté until tender, or about 5-7 minutes. Then add in the garlic and sauté another 2-3 minutes. Stir well while cooking down the seasonings over medium low heat.
3.
In the meantime use a medium bowl and combine the softened cream cheese with the cheddar cheese and add in the remaining 1 Tbsp of the Finger Lickin Rub, mix well to incorporate. Set aside until needed later.
4.
Add in the crawfish tails and the chopped shrimp to the skillet and cook until shrimp are pink, or about 3-5 minutes. Stir often.
5.
Next, in a small bowl whisk the flour into room temperature chicken stock until well dissolved, then add this to the skillet and bring to a low simmer and stir well to thicken or about 3-5 minutes. Then turn off the heat.
6.
Next, fold in the cream cheese mixture into the skillet mixture and stir until well incorporated. Fold in the chopped parsley and chopped green onions and then allow to cool to room temperature.
7.
Allow the puff pastry dough to temper and spread out a sheet onto a floured work surface. Then cut each sheet into 3X3 inch squares.
8.
Make an egg wash with the two beaten eggs and ¼ cup water, then start filling your pastry sheets in the following manner. Pre-heat your oven to 375° F.
A. Brush 1 pastry dough square with the egg wash.
B. Drop 1-2 Tbsp of the crawfish filling into the center of the square.
C. Fold the corner over to form a triangle.
D. Crimp the edges with a fork
E. Transfer the pie to a coated sheet pan
Repeat the above procedure for all your puff pastry dough sheets. And then brush all the crawfish pies with more egg wash.
9.
Bake the crawfish pies in the oven for 25 – 30 minutes, or until golden brown.
To Serve: Remove with a spatula and serve with your favorite sauce.
Yield: 24 pies approximate
This is my version of Crawfish Pie using prepared puff pastry dough, and served with an Asian sauce.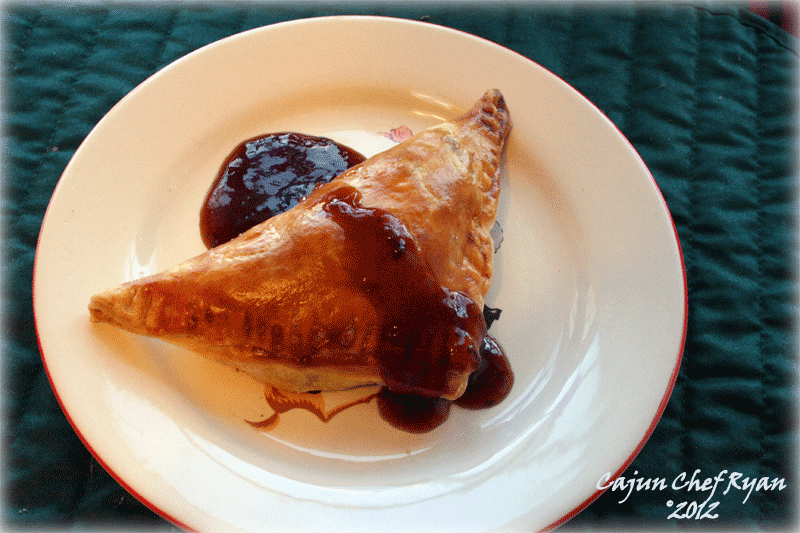 Crawfish Pie ready to eat!
Bon appétit!
CCR
=:~)
©2012 CCR