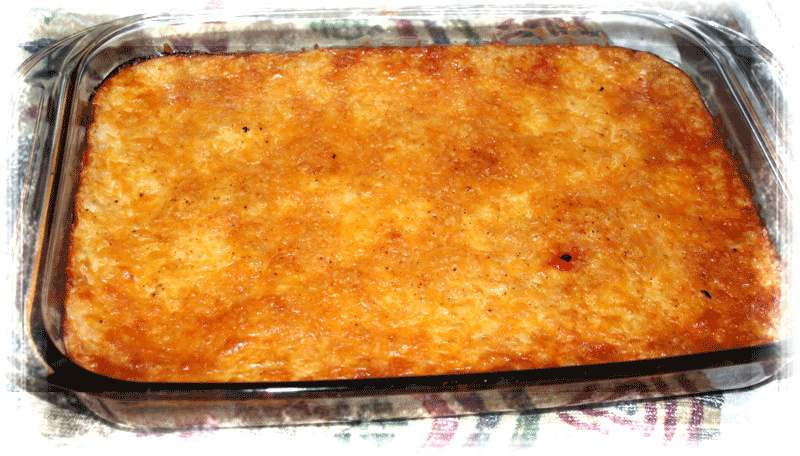 I have heard many folks mention that corn casserole has been a favorite in their family for years, we just tried it for the first time this past Christmas during our Mountain Cabin Adventure, and it may become a new tradition for our family too! This version is adapted from the Curves "Women In Motion" December 2009 newsletter is a great and healthy way to enjoy corn. We substituted some of the ingredients, replacing the low-fat shredded cheddar cheese with finely shredded Mexican four cheese mix and increasing doubling the amount , and the original recipe called for egg substitute, we used read eggs instead. In addition, we added some extra virgin olive oil for sautéing the onions and peppers, the original recipe called for non-stick spray here. Therefore, the dish we ended up with and re-created here might not be as low in calorie and fat as Curves intended, but that is why we love to cook, always making a recipe our own. Other than those three ingredient changes, we followed the rest and the procedures remained the same.
I would think that this side dish casserole would be good anytime of year, in fact, an addition of chopped jalapeno's, and green and yellow peppers would also add some color and flavor too.
Here is our version listed for your dining enjoyment. Above here the casserole pictured with the Christmas Cabin dinner meal which also consisted of the smoked leg of lamb, smoked turkey breast, bourbon sweet potatoes, rice, and peas. Note, click images for a larger view.
Ingredients
½
Tbsp
Olive oil, Extra Virgin
1
Medium
Onion, chopped
1
Large
Red bell pepper, chopped
1
Can
Whole kernel corn, drained
1
Can
Cream-style corn
1
Pkg.
Corn bread mix, 7.5 ounces
1/3
Cup
Eggs, beaten
8
Ounces
Fat free sour cream
1
Cup
Shredded Mexican four cheese blend
Procedure Steps
1.
Coat a sauté pan with a little olive oil and then sauté the onions and peppers over medium heat until the onions are translucent, and peppers are tender.
2.
In a large bowl, combine the two cans of corn, corn bread mix, and eggs.
3.
Once the onions and peppers are done stir them into the bowl with the other ingredients.
4.
Pour the ingredients into a 2-quart baking dish coated with non-stick spray or greased with butter.
5.
Combine the sour cream with the shredded cheese and then spread this evenly on top.
6.
Bake for 1 hour in a 350° F. or until a toothpick or knife inserted comes out clean. Then let stand at least 10 minutes before serving.