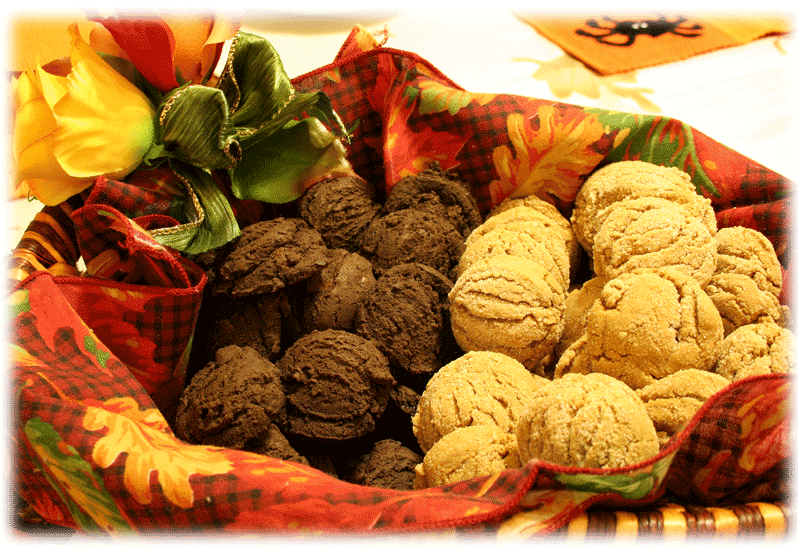 This is a recipe for wonderful little cookie bites that utilize the simple cookie batter technique of creaming the butter and sugar then adding the cocoa and egg and finishing with the dry ingredients. Tiny scoops of these baked for just 14 minutes and before you know it, you have about 40 tiny cookie morsels with melted chocolate chips inside.
Got milk?
For those following a Weight Watcher plan they are only 1 point each. Monique found this one in the Weight Watchers Annual Recipes for Success 2003 issue on page 54 in the Desserts section. Click on image to view these and the Spice cookies, the recipe for those I will feature tomorrow. These cookies were a part of the dessert treats at the hosted jewelry party Monday evening.
For our particular preparation of this recipe, we used Hershey's Special Dark cocoa, which really adds a great dimension to the double chocolate treats. In addition, instead of using two egg whites, we used just one whole egg, and not sure if this alters the WW points factor. The original recipe calls for baking of 10 minutes; we found this too short a time and added an additional 4 minutes to our liking. You may need to adjust your baking time depending on your oven too. Ingredient substitutions noted in the ingredients section below.
Ingredients
1
Cup
All-purpose flour
¼
Tsp
Baking soda
1/8
Tsp
Salt
¼
Cup
Butter, softened
½
Cup
Dark brown sugar, firm packed
½
Cup
Granulated sugar
1/3
Cup
Cocoa, unsweetened (Hershey's Special Dark)
2
Lg
Egg whites (One large egg)
1/3
Cup
Chocolate mini-chips, semisweet
 
Cooking spray
Procedure Steps
1.
Preheat oven to 350° F.
2.
Lightly spoon flour into a dry measuring cup then level with a knife; then combine it with the baking soda and salt in a large mixing bowl.
3.
Beat the butter and brown sugar with the whip attachment in a mixer until light and fluffy, then gradually add the granulated sugar and continue to beat well. Add the cocoa and eggs and continue to beat until well incorporated. Gradually add the dry ingredients and beat until blended. Stir in the chocolate chips.
4.
Scoop or spoon teaspoonfuls of the cookie dough onto a baking pan that has been lightly coated with the cooking spray be sure the dough is about 1 ½ inches apart, this will allow room for them to spread while baking.
5.
Bake in the preheated oven at 350° F for 10 – 14 minutes or until done. Allow to cool on pans for a few minutes or until firm and then transfer the cookies to a wire rack to cool completely. Transfer to an airtight storage container.