On June 26th I received an email from Sarah Haverkamp of Weber Shandwick Worldwide, a PR firm representing Zatarain's.

Hi Ryan!

My name is Sarah Haverkamp and I am working on behalf of Zatarain's. I was looking at your blog today and I noticed that a portion of your blog is devoted to various cooking contests. I thought you and your readers would be interested in the contest we are holding.

New Orleans' own Chef John Besh and Zatarain's – the brand serving up New Orleans-Style cuisine for 120 years – are challenging cooking enthusiasts across the country to a "Jambalaya Throwdown." And we want to challenge you to start your own Jambalaya Throwdown on your blog.

We have some awesome kits that we'd love to send your way to get you and your readers started – including Zatarain's jambalaya mix, cooking utensils and a chef's apron!

Jambalaya Throwdown Press Release

If you're up for the challenge, let me know – We hope you participate!

Have a great day and I look forward to hearing from you!

Sarah

Sarah Haverkamp
Of course I replied to the email with interest and so yesterday on the front porch sat a huge box awaiting for me upon my return home from work. Once inside I opened the contents and found this collection of boxes: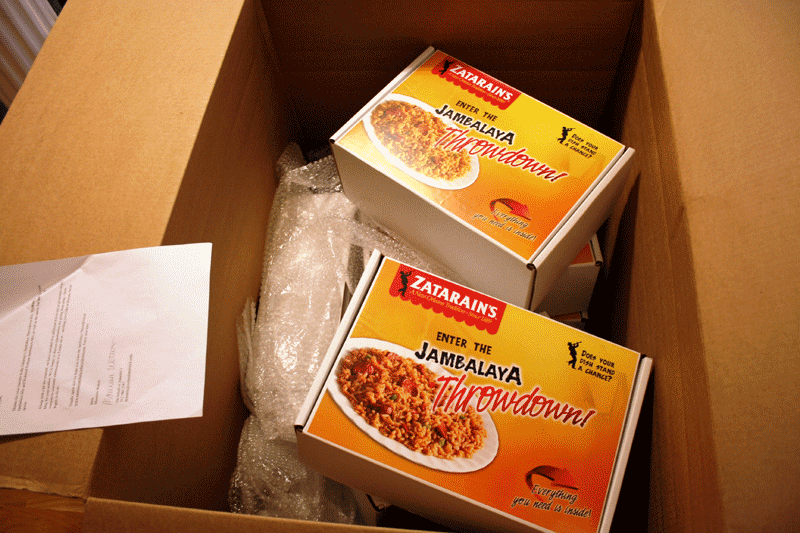 And so I had to take a peek inside to see the spoils and here is what is included with each "Jambalaya Throwdown Kit":
A Zatarain's apron, cloth chef hat, wooden spoon and a box of Zatarain's Reduced Sodium Jambalaya Mix and a box of Zatarain's Jambalaya Mix.
The official Zatarain's Jambalaya Throwdown contest is offering a $2,500 cash prize for the winning original Zatarain's Jambalaya recipe. All recipes must be original and use the Zatarain's Jambalaya Mix as a base ingredient. Zatarain's Jambalaya Throwdown Official Contest Rules.
To enter the contest you will need to use their Jambalaya mix, so here is where my portion of the contest begins. If you would like to enter the Cajun Chef Ryan Zatarain's Jambalaya Kit Contest for a chance to win a Jambalaya Throwdown Kit just comment on this blog post and list your favorite Jambalaya ingredient. I will keep the contest open until Monday, July 13, 2009 and then I will run a random pick for the winners on Tuesday, July 14, 2009. The kits will be shipped to your address free of charge. And then you can start creating your own Zatarain's Jambalaya too.
If you have never made a Jambalaya, you might try one that I have made for many years, my Chicken and Sausage Jambalaya.