A wonderful way to enjoy wild mushrooms and soothing for the body, mind, and soul soup, the barley makes this a hearty meal also. The recipe can be halved if necessary, as this batch will yield over one and a half gallons of hearty soup, or 16 really hefty servings. (Note: Click on images for a larger view.)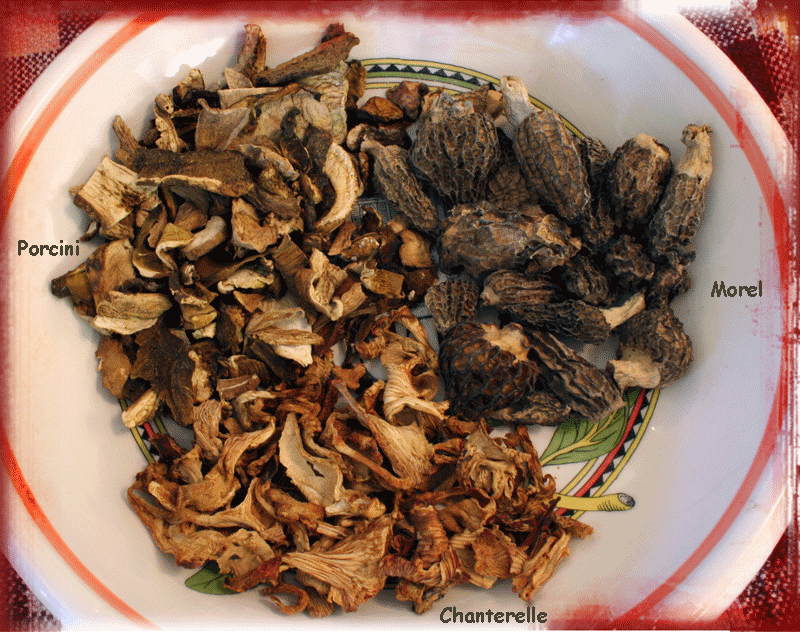 Any dried mushrooms will do, but for this time around, I used a combination of porcini, morel, and chanterelle that gives a blend of deep earthly flavor to the soup. The mushrooms are first re-hydrated in warm water for 15 minutes or so, and then they are rinsed in several changes of cool water to remove any sand or grit from the tasty fungi. Once the excess water is gently squeezed out of the re-hydrated mushrooms, they are then soaked in brandy for at least an hour. The mushrooms absorb and take on a wonderful flavor of the brandy, and the brandy takes on a woody aroma too. The combination of the two is amazingly appealing, also wonderful for making a wild mushroom cream sauce, as in the Wild Mushrooms a la Crème appetizer recipe.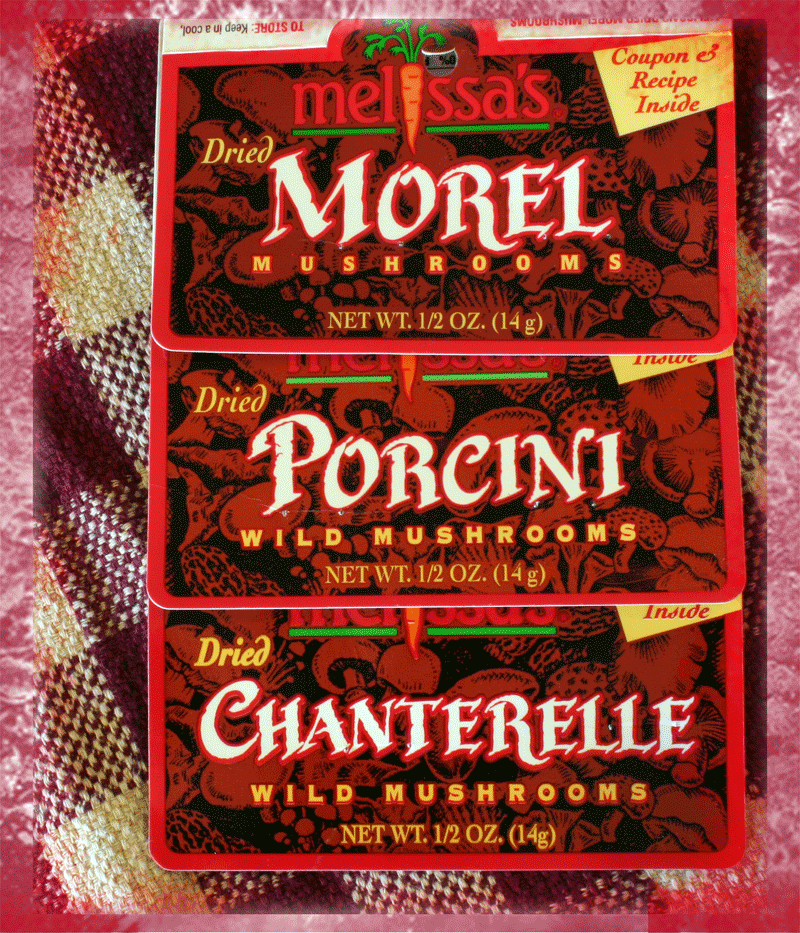 Harris Teeter grocery store sells several of Melissa's brand of wild mushrooms, and that is where I found these, but there are several other sources for dried and fresh wild mushrooms. The wild mushroom water is strained and then incorporated to the soup for additional liquid, but more importantly for the taste, and brings this soup to the next level with a bold essence of wild mushroom woody earthly zest. No flavor is wasted in this recipe; every drop of mushroom flavor is extracted and integrated into the soup. Moreover, along with additional fresh cremini or button mushrooms, carrots, onions, and pearled barley rounding out this hearty soup, perfect for fall and winter days.
And for true vegans a good vegetable stock in place of the chicken stock would make this a complete vegetarian dish too.
Ingredients
2
Ounces
Dried mushrooms, e.g. porcini, morel, chanterelle
2
Cups
Warm filtered water
¼
Cup
Brandy
14
Cups
Chicken stock
2
Tbsp
Worcestershire Sauce
1
Cup
Pearled barley
2
Large
Onions, diced (approx 3 cups)
4
Ribs
Celery, diced (approx 2 cups)
1
Lb.
Carrots, diced ( approx 3 cups)
8
Cloves
Garlic, minced
2
Each
Bay leaves
2
Tbsp
Oregano, fresh, chopped
1
Tbsp
Basil, fresh chopped
2
Lb.
Fresh cremini or button mushrooms, sliced
To taste
Salt and white pepper
2
Tbsp
Parsley, fresh chopped
Procedure Steps
1.
Place the dried mushrooms in a small bowl and cover with the warm water. Let stand for 15 minutes or so to re-hydrate. When hydrated, squeeze out any excess water and place mushrooms in another bowl, rinse them under several changes of cool water to remove any grit. Toss the mushrooms with the brandy and allow to soak for 1 hour. Gently turn and mix the mushrooms and brandy several times to evenly soak. Once the dried mushrooms are hydrated, line a sieve with a coffee filter or paper towel. Strain the mushroom water into another bowl to separate any grit.
2.
While the dried mushrooms are soaking, add the chicken stock to a large stockpot and then add the Worcestershire Sauce and bring to a boil covered. Then add the barley and continue to boil for 30 minutes over medium heat covered.
3.
Add the strained mushroom water to the soup. Then add the onions, celery, carrots, garlic, bay leaves, oregano, and basil, bring back to a boil, then reduce the heat, and continue to simmer for 20 minutes over medium heat covered. Then add the sliced fresh mushrooms, stir well, and continue to simmer for 15 minutes covered.
4.
Chop the wild mushrooms, add them to the soup with the brandy, and then simmer another 5 minutes.
5.
Season to taste with salt and white pepper, then garnish with the chopped parsley.