…and an online coupon code too!
Several weeks ago, I received an email from Andy Kutcher of FSC Interactive introducing me to Sucré, in New Orleans, Louisiana, a confectionary, and on their web site for online orders: www.shopsucre.com. It is so nice that New Orleans now has a gourmet artisan chocolatier to call it's own, since opening in April of 2007.
From breakfast to a midnight snack, Sucré is available to satisfy your sweet tooth. Sucré (French for sugared) is an emporium of "artisan" sweets. Unlike a traditional bakery, Sucré serves plated desserts with custom garnishes in addition to boxed treats.
Andy had a few samples of their confections shipped to our address and after opening the UPS box; we were delighted with two chocolate treats, the Pistachio & Rose Petal Chocolate Bar, and the Sucré Sugar & Spice Holiday Collection of truffles.
Everything Sucré creates is handcrafted in small batches and inspired from local, homegrown flavors. This holiday season they have teamed up with the Louisiana SPCA and a portion of every online sale will go directly to benefit the animals of the LA/SPCA.
Sucré offers breakfast pastries, cakes and desserts, artesian chocolates, chocolate collections, French macaroons, confections, nuts, gelato and sorbets, beverages, seasonal and featured items, wedding and specialty cakes. The Pistachio & Rose Petal Chocolate Bar, which sells individually for $6.50 or $35.00 for a six bar gift bundle. Other chocolate bars available include Swirled Caramel & Salted Peanut Chocolate Bar, Maracaibo 65 Chocolate Bar, Candied Violet Chocolate Bar and Salted Pretzel Chocolate Bar.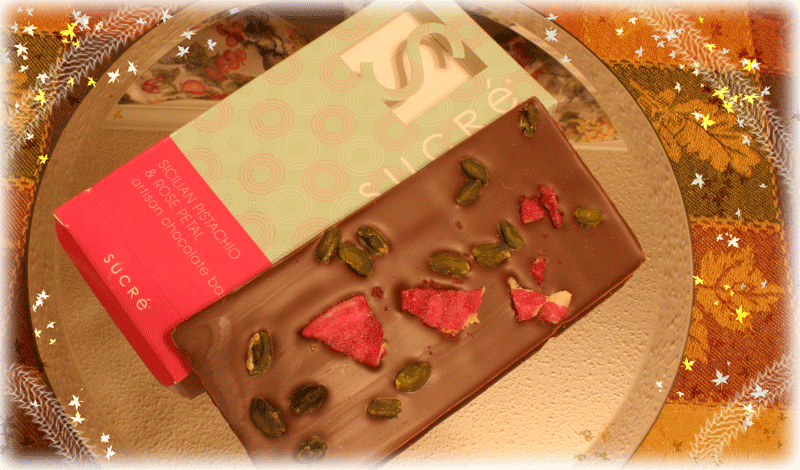 The Pistachio & Rose Petal chocolate bar consists of a smooth creamy milk chocolate that is embedded with toasted whole shelled Sicilian pistachios and candied rose petals on the one side and break-apart sections on the other side. A definite artisan chocolate bar here, the candied rose petals are delicate and lend a crunchy appeal to the smooth chocolate.
The holiday truffle collection with 15 pieces, which are named the Sucré Sugar & Spice Holiday Collection, sells for $30.00. This collection includes fives pieces each of the Eggnog Dark Chocolate Truffle, Candy Cane White Chocolate Truffle, and Gingerbread Milk Chocolate Truffle. Each of these elegant truffles is special in their own way. The Gingerbread truffle has a bit of spiciness reminiscent of a ginger snap cookie, while the Eggnog truffle is very smooth and creamy, and the Candy Cane truffle has hints of the holiday treat.  All of these truffles are a superior product and worthy of praise.
Other confections that Sucré offers include the Peppermint Stick Drinking Chocolate, the Vanilla Marshmallows, and the Eggnog Dark Chocolate Truffle is also featured in the images below.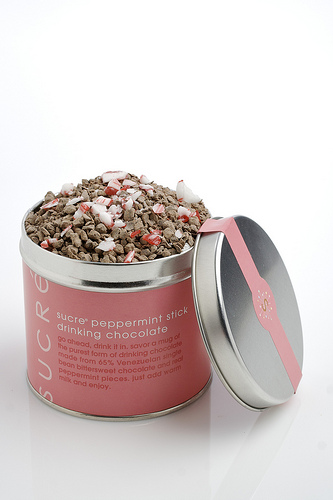 Peppermint Stick Drinking Chocolate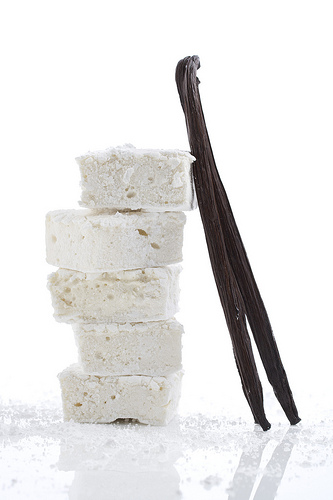 Vanilla Marshmallows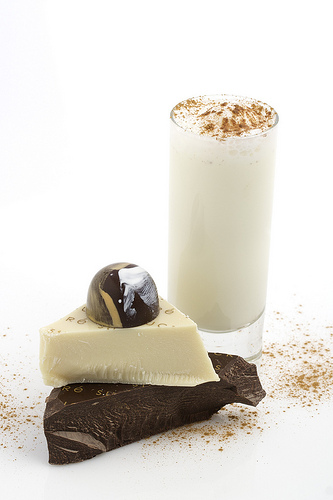 Eggnog Dark Chocolate Truffle
For more images of the holiday collection: Seasonal Featured Items
$10.00 off online orders over $70.00
Andy asked me to pass on a special offer for anyone who orders from their site by December 23, 2009, and the offer code is applied prior to final checkout and is for $10.00 off orders over $70.
Code: SUCRE
Company Info:
Sucré
3025 Magazine St
New Orleans, LA 70115
Internet Orders: 504.708.4366
Tel: 504.520.8311
Fax: 504.520.8312
info@shopsucre.com
www.shopsucre.com