Beef Stew, that is!
On our recent trip to New Orleans I made a concerted attempt at gathering family recipe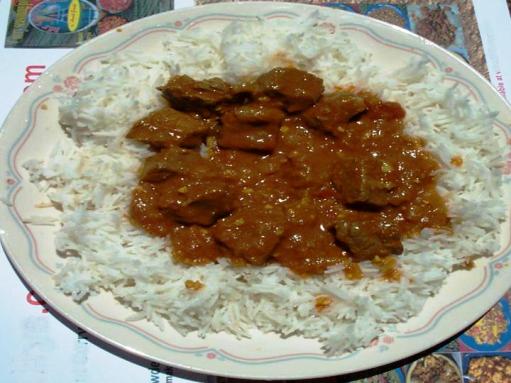 favorites from my mother and mother-in-law. One of the recipes that caught my eye was a beef stew concoction that originated from the files of my Grandmother Marjorie Christoffel who was originally from Texas, but lived in Pineville, Louisiana until her death, and she was also a really good cook in her day. My mom said it was a very good recipe and easy to make too. It looked easy from the title on the index card….. No Peep Stew
So I Googled "No Peep Stew" and it seems there are a few variations on this recipe, and I did find one that matched the exact ingredients, amounts and order of preparation exactly. And the author could not verify the origin of it either. I wonder where this recipe originated, but it seems similar to one of those you would find on the back of a can of soup or soup mix, considering that two of the ingredients are canned cream of mushroom soup and dry onion soup mix.
Beef bottom round was on sale at the local grocery for $1.99/lb. so I bought a 3 lb chunk and decided it was time to try out this mysterious recipe. Let me tell you, about an hour after it was in the oven the house was permeated with a wonderful fragrance that brought back memories from days of yore. Yup, this stuff is that good! Funny how smells are associated with memory, and that is a subject for another post! The wonderful aroma filled the house with that loving made from scratch meal smell that only my mother could do when I was boy growing up. I used to tell my parents at the dinner table that we should open up a restaurant because their food was always better than any other place to eat. My mother's pat answer was "you can open up one, that's hard work and I already have a full time job….no thanks!"
So here it is, the memory lane recipe that must be 40+ years old, and still proven to please even today! I also include a variation that I plan to attempt the next time around.
No-Peep Stew
Ingredients
2          lbs        Boneless beef stew meat
1          pkg      Onion soup mix
1          can       Cream of mushroom soup
½         cup       Red wine
1          can       Mushroom stems and pieces (4 oz)
To taste            Pepper
¼         cup       Water
Procedure
Place meat in bottom of roasting pan or casserole and pour all other ingredients on top of meat, then add ¼ cup water.

Cover and cook in 325° F oven for three hours.

Do not peep while cooking.

Meat will be very tender and you will have a good, rich brown gravy for rice, etc.
Serves four to five.
Variation on the theme; the next time I make this recipe I will be adding the following ingredients as in step 1 following the same procedures as listed above.
1          cup       Pearl onions, skin peeled
2          cups     Carrots, peeled and very large diced
1          cup       Peas
1          Tbsp    Garlic, minced
2          cups     Red New Potatoes, quartered