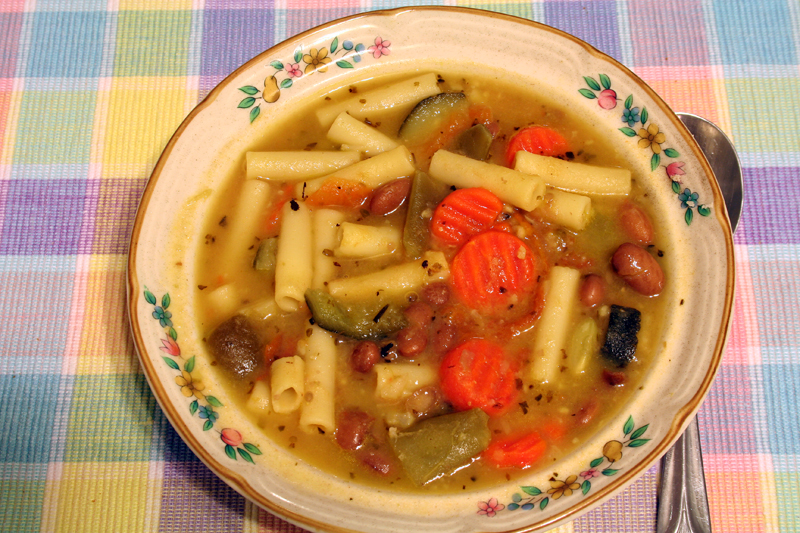 This soup took about 25 minutes to prepare, it is not only quick, but easy to make too, and is another one of the Weight Watchers recipes adapted in our kitchen from the Simple and Classic Home Cooking cookbook, found on page 166 in the soups section.
As many of you know, in our kitchen we like to modify recipes to suite our own cooking style and preferences, so with this one we used dried pinto beans that we pre-cooked a few days before, and followed the rest of the recipe closely. We also increased the garlic amount by triple the original quantity. While the recipe calls for some frozen vegetables, they really are not that bad at all, in fact, it makes the soup go together quite quickly. Yet, if you prefer fresh vegetables, you could add sliced fresh zucchini, yellow squash, cauliflower, broccoli, Italian green beans, red peppers, carrots, baby lima beans in any combination that yields a pound. Therefore, if you are looking for a quick soup, this one will fit that need in less than thirty minutes. At only 143 calories per 1-cup (8-ounce) serving, when accompanied by a fresh salad this makes for a very light dinner.
Ingredients
2
Tsp
Olive oil
6
Cloves
Garlic, minced
6
Cups
Chicken stock, heated
1
Lb.
Italian style vegetables, fresh or frozen (see note above)
2
Cups
Pinto beans, cooked, rinsed and drained
2
Cups
Roma tomatoes, peeled, seeded and diced
¾
Cup
Tubetti or other small tubular pasta
2
Tsp
Italian seasoning
3
Tbsp
Parmesan cheese, fresh grated
To taste
Salt and white pepper
Procedure Steps
1.
Heat the olive oil in a large stockpot over medium high heat and sauté the garlic for a minute or until lightly browned. Add the chicken stock, vegetables, beans, tomatoes, pasta, and Italian seasoning. Bring to a boil, then reduce heat and simmer, uncovered for 15 minutes or until pasta is tender. Season to taste with salt and white pepper
2.
Ladle into individual serving bowls and sprinkle with the fresh grated parmesan cheese, about ½ a tablespoon in each bowl.
Yield: 10 1-cup servings
According to the Weight Watchers nutritional analysis, this recipe has a 2-point value per serving and 143 calories, 23.9g carbohydrates, 1.9g fat, 3.3g fiber, 6.2g protein, 1mg cholesterol, 509mg sodium (however, with fresh chicken stock this would be mush lower), 67mg calcium.