Italian Turkey Slaw Roll
You all know that Ben brings his lunch to school everyday, well, if you didn't know already, you do now. We do this for several reasons, first and most important is that we have complete control of what he gets to eat, meaning a healthier lunch meal, and second, it costs way less than the money he would spend every day in the lunch line at school.
This particular sandwich is a real hit! And with the smoked and roasted turkey breast, pepperoni slices, shredded mozzarella or cheddar cheese, Italian dressed coleslaw, fresh tomato slices, and fresh green pepper slices, this sandwich is not only tasty, but has a healthy variety of vegetables also. And not just for school lunch either, this is one good sandwich!
The Italian dressing recipe which I have linked goes to a creamy version that I have used from Emeril's inspiration, it is a creamy Italian dressing, but you can use any Italian dressing you prefer.
Ingredients
2
Each
Hard rolls, split
6
Slices
Tomato
16
Slices
Pepperoni
4
Ounces
Smoked, roasted turkey breast, thinly sliced
2
Ounces
Shredded mozzarella  or cheddar cheese
1
Cup
Shredded cabbage, or coleslaw mix
½
Medium
Bell pepper, thinly sliced into rings
2
Tbsp.
Italian dressing (see recipe)
Procedure Steps:
1.
On the bottom halves of the hard rolls place 3 tomato slices, 8 pepperoni slices, 2 ounces of the turkey slices.
2.
Take the shredded mozzarella, shredded cabbage or coleslaw mix and the Italian dressing and mix well, then portion half of the mixture onto the top of sliced turkey breast on each roll.
3.
Cover with the top half of the hard rolls, and slice each sandwich in half. Serve immediately, or package each half into a zip-type bag and place in the lunch kit with an ice pack to keep cool.
Yield: 2 servings
More views…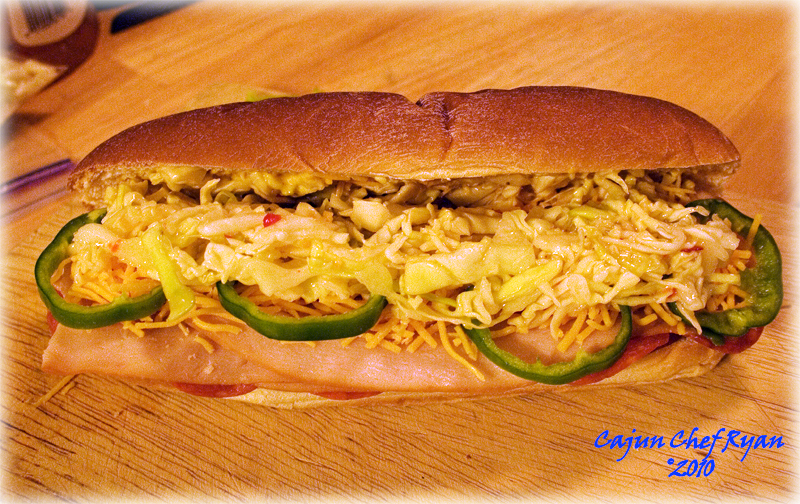 Italian Turkey Slaw Roll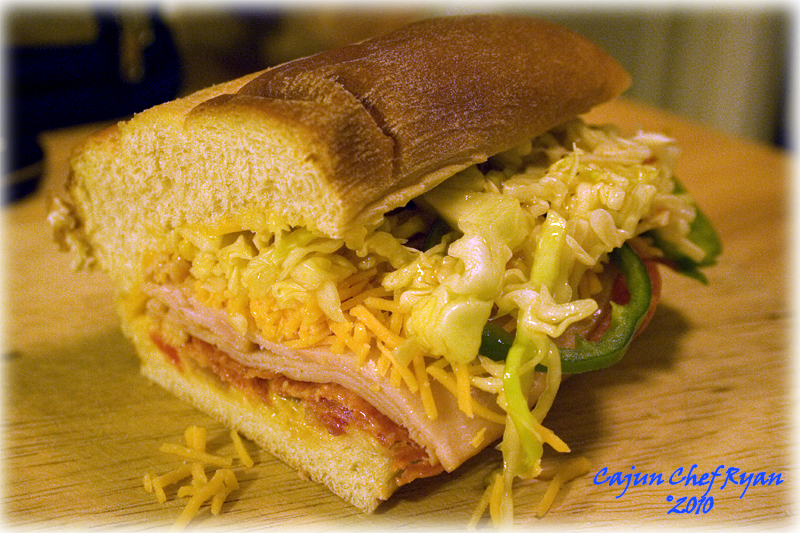 Italian Turkey Slaw Roll, halved
Bon appetite!
CCR
=:~)
©2010 CCR