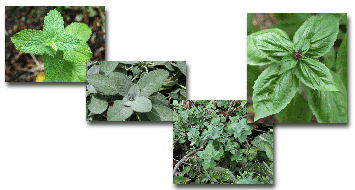 This past Saturday we got out into the yard for some gardening, weeding and watering in the front yard since it was an unusually cool day for a mid-August weekend. Gardening is a combination of relaxing, energizing and cathartic activity, I just love the outdoors. So while we were playing in the garden and the planter areas I started to think about what I could write about all the edible culinary herbs growing in our yard. I also came up with the Plant Contest idea while watering the herbs, it is amazing what a little outdoor activity and fresh air can do for the brain.
This is the first of what will be as a series on fresh grown culinary and medicinal herbs with a focus on the home grown culinary herbs from our own yard. I will also touch on some herbs that we are not growing at this time, but are equally as important to any good kitchen pantry. I will also mention a few medicinal herbs that are easy to grow and can be utilized in a variety of preparations as well.
In our yard we currently have eleven different herbs growing in various locations surrounding the house, most of them are on the south side which gets the most sun. These herbs include the four in the image above which are spearmint, sage, oregano and basil. We also have two varieties of thyme, peppermint, garlic chives, curry, cilantro and rosemary. Tomorrow I will focus on one of these herbs and will continue to highlight each of them as I move along in the series.