Vegetable Beef Soup
Chunky, hearty, chock full, healthy, tasty, filling, these are just a few of the adjectives to describe this amazing soup. With twelve different vegetables, this tomato based soup just explodes with a healthy flavor that you can smell even before you taste one bite!
Nothing comforts the heart, body, and soul like a big bowl of warm steamy soup, and this recipe makes a big pot, enough for plenty of leftovers for the week, or about 2 ½ gallons. If you don't have the inclination, or space limits your ability to produce a full batch, then feel free to cut the quantity in half or even quarter it to fit your needs. In fact, I implore you to change up this recipe, it is only a guideline and heck, maybe you don't like turnips, but would prefer potatoes, or maybe some fresh corn instead of the peas and green beans, or how about some whole grain brown rice in place of the pearled barley, endless variations depending only on your imagination, budget, pantry, or local fresh market.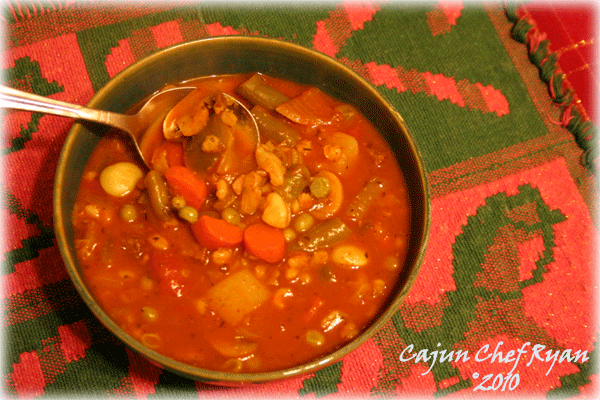 Vegetable Beef Soup
Here is a step-by-step video short to give you the quick overview of the simple procedures for making this incredible soup, and it's just 90 seconds viewing.
What you will need…
Ingredients
1
Tbsp
Olive oil
2 ½
Lb.
Chuck roast, cubed
½
Gal.
Beef stock, warm
12
Oz
Tomato paste
3
Cups
Onions, diced
3
Cups
Celery, diced
2
Cups
Carrots, diced
1
Cup
Bell pepper, diced
1
Lb.
Mushrooms, sliced
4
Cups
Cabbage, chopped (medium head)
1
Lb.
Turnips, diced
3 ½
Lb.
Peeled tomatoes, whole
12
Cloves
Garlic, minced
1
Tbsp
Italian seasoning
3
Each
Bay leaves
1
Tbsp
Worcestershire sauce
1
Cup
Pearled barley
1 ½
Lb.
Green beans, cut
1
Lb.
Lima beans
1
Lb.
Green peas
To taste
Salt and white pepper
How to do it…
Procedure Steps:
1.
Heat the olive oil in a large stock pot and then sauté the cubed beef until nicely browned.
2.
Keeping the stock pot over a high heat, add the beef stock and tomato paste and stir well until dissolved. Then add the next twelve ingredients and bring to a boil, then reduce heat to a simmer.
3.
Add the pearled barley and stir well, cover and continue to simmer for one hour or until barley is cooked and tender.
4.
Add the green beans, lima beans and peas and bring back to a simmer for about 20 minutes or until all the vegetables are tender.
5.
Season with salt and white pepper to taste.
To Serve: Ladle 1 cup portions into a soup bowl
Yield: about 40 cups
Another view…
Vegetable Beef Soup
Bon appetite!
CCR
=:~)
©2010 CCR