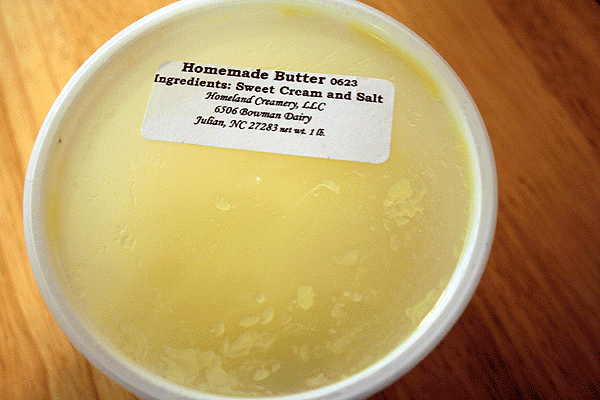 Butter is one of those basic larder ingredients that we always have on hand, among many other staples. And typically we will have a pound of Land O Lakes in the fridge at any given time, but there are betta buttas out there you know!
On a recent visit to the NC Specialty Shops in downtown Wake Forest the shop owner Rusty Forrest introduced us to some locally made butter (click on image for a larger view) produced by Homeland Creamery, LLC out of Julian, NC which is about 78 miles west of us. This stuff is just about the best butter I have ever set my lips on. I know this stuff is available in limited quantities, and most likely not found outside the state of North Carolina, but I just had to talk about, you know!
A few weeks ago I was cooking up some omelets for dinner and as I set up the pan and melted the butter on high heat it did not burn and the flavor it added to the eggs was outstanding! This butta rocks! There really is nothing better than fresh local ingredients for your larder staples.
By the way, I am going be at the NC Specialty Shop this Saturday, September 13, 2008 from 10:00 am to 1:00 pm preparing some food tastings featuring some of my Cajun Cuisine and will demonstrate blackening some chicken on a cast iron griddle along with some Cajun Jambalaya too!
See Cajun Chef Ryan in Person at the NC Specialty Shops on
 Sat. Sept. 13th from 10 am to 1 pm

Cajun Cooking Demonstrations using Carolina Ingredients

Chicken and Sausage Cajun Jambalaya

Hot Blackened and Blue Chicken
NC Specialty Shops– A Taste of the Carolinas
"Specializing in North Carolina Made Products" 
150 S. White Street 
Wake Forest, NC 27587
919.320.2289 
919.270.1975