On Friday a met Monique for lunch at Firehouse Subs in the Brier Creek shopping area and we both got a sub, I got the new BBQ Smoked Brisket Sub and she got the Hook and Ladder Sub. Both were good, but not like a good ole messy Hot Roast Beef Po-Boy like in NOLA.
Friday evening we finished up some leftover Tilapia from earlier in the week, but we soon started into some more great eats on Saturday and Sunday! I bought some fresh salmon at the grocery, a nice 1 lb. piece with the skin-on and we have been craving my Dill Crusted Salmon with Dill Yogurt Sauce.
Saturday afternoon after a visit at the hair salon we headed to our new favorite foodie store in Wake Forest, The Tipsy Gourmet. This place has many culinary and gourmet items, kitchen equipment, hard to find ingredients, beer and wine too! We happened to enjoy some free wine tastings and bought two bottles while there, a bottle of German and a bottle of Argentinian wine too, a dry Riesling.
After the trip there we started on our dinner preparation, the Dill Crusted Salmon.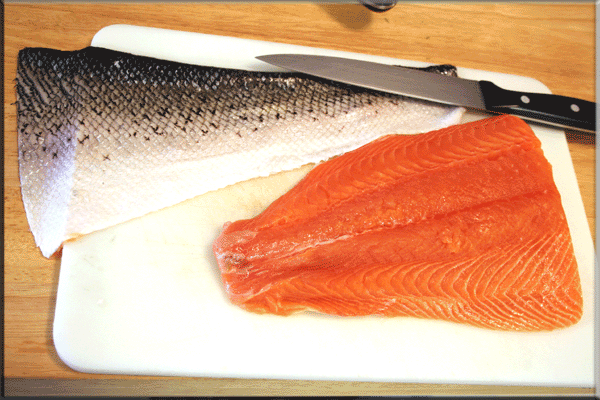 Skinned Salmon Filet
Skinning a salmon filet is a technique that takes a bit of skill, but with a sharp knife and a tight hold on the skin and a quick flick of the wrist I peeled the skin from the fresh pink flesh with little or none attached to the skin. Same technique for skinning any cut of fish or meat for that matter.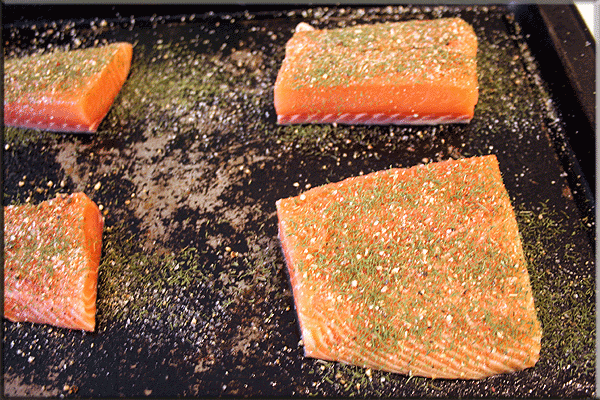 Salmon Cuts with Dill and Spice Crust
 Once that was done, I cut the salmon into 4 pieces and seasoned them up with some garlic salt, fresh cracked black pepper and dill weed. Then into the pre-heated broiler for 15-20 minutes, or until a nice browned crust is formed on the top and the salmon is cooked about 90% through.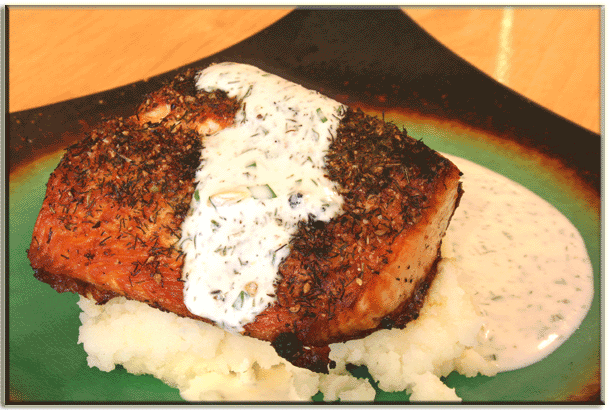 Dill Crusted Salmon with Dill Yogurt Sauce on a bed of Garlic Mashed Potatoes
 Then I plated the crusted salmon filet's on top a bed of garlic mashed potatoes and served it with a heaping portion of the dill yogurt sauce.
Ingredients
| | | |
| --- | --- | --- |
| 6 | Ounces | Yogurt, plain, non-fat |
| 2 | Tsp | Dill weed |
| ½ | Tsp | Garlic salt |
| ½ | Tsp | Fresh cracked black pepper |
| 1 | Tbsp | Mayonnaise |
| 1 | Tbsp | Chives, chopped (Optional: Garlic chives if available) |
| 1 | Tsp | Lemon zest |
| 1 | Whole | Lemon |
Procedure Steps 
| | |
| --- | --- |
| 1. | Combine the yogurt with the dill weed, garlic salt, pepper, mayonnaise and chives. |
| 2. | Squeeze the juice from the one lemon and add to the sauce mixture. |
| 3. | Zest 1 Tsp of the lemon peel and add it to the sauce and mix well. |
| 4. | Refrigerate until service. |
Sunday we started the morning with some homemade Beignets with Cafe au Lait! What a great New Orleans treat. I will post a separate thread on these, but here are a few images to get your mouth watering…. 
Powdered Beignets Fresh from the Fryer