Today I want to introduce you to Tammy, from Koreafornian Cooking, where she creates Korean cooking and dishes inspired with California spirit. On her blog you can find recipes such as a recent addition for Yujacha Salmon (spicy citron sauce), or one of the more popular posts for Kogi-inspired Kalbi taco recipe with Korean BBQ sauce and slaw. Her all time most popular post is the recipe for Saeng Cream Cake. If you are looking for Korean California fusion, this is the place to browse. Please welcome Tammy as she presents her Korean-style Waffle Syrup recipe.
About Tammy
Tammy of "Koreafornian Cooking"
She is a former ESL teacher who began making YouTube cooking videos in 2007. Now, she is the San Francisco area editor for ZenKimchi Food Journal as well as writing on her own blog. Tammy's Korean fusion YouTube cooking videos have been featured on Korea.net food blog, Serious Eats, Seoul Eats and iFoodTV.com. Her written recipes have been featured on Plate Magazine Online, Foodbuzz.com, and Marxfoods.com.
The Recipe
I have been playing around with the idea of Korean-style Chicken and Waffles since November 2009. Chile Pepper magazine had a bigger-than-life picture of Belgian waffles covered with fried chicken and drenched in cayenne-cinnamon syrup.
This blog post sat in my idea folder for over a year due to my own indecisiveness. My article for Plate Magazine about Korea's growing breakfast culture (and the inclusion of my Korean egg toast recipe sparked my decision to dust this recipe off and do something with it. It has also inspired me to create more breakfast recipes in the future.
Here is the recipe for Korean-style breakfast syrup, a wonderful spicy side kick to your favorite chicken and waffles, French toast or pancake breakfast.
Korean-style Waffle Syrup
Ingredients
1
Cup
Maple syrup or mul yeot (Korean corn syrup)
¾
Tbsp
Ground dried cinnamon
1
Tbsp
Spicy Paprika or gochugaru (Korean spicy red pepper powder)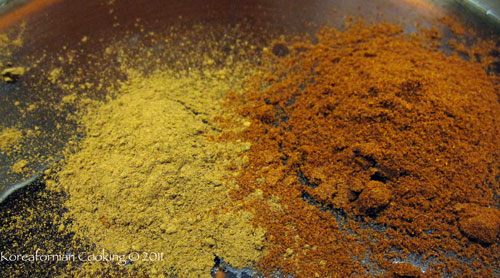 The cinnamon and gochugaru looked so gorgeous on top of the warmed syrup; I didn't want to mix them. (Photo by Tammy Quackenbush)
Method
Put all the ingredients in a small saucepan over low heat and whisk the ingredients together.
Keep warm until ready to serve.
Plate the waffles, and then put some chicken on top.
Drizzle the combination with syrup or serve it on the side for dipping.
We lean towards the syrup-on-the-side option, but feel free to pour it on. (Tammy Quackenbush photo)
---
Thank you Tammy for this great Korean California inspired syrup recipe!
Bon appetite!
CCR
=:~)
©2011 CCR