Today's guest blog post is by Katie Prange of One Little Corner of the World.
It is my pleasure to feature Katie as she shares with us a part of her family cooking tradition on the CCR blog! Katie is featuring her family recipe Page 92 – named and created with the help of her son. (A modified, easy quick Chili Mac).
Please join me in welcoming Katie!
Katie of "One Little Corner of the World"
About Katie
Katie is a wife, mother of two boys, and a high school English and accounting teacher. She loves to cook, and find new ways to share her love of food with family. She thoroughly enjoys teaching and loves to be with her students. Katie says, "I think they keep me young. I write part time for a local newspaper in the area".
She is busy these days with scouts and sports; they just finished with basketball, but are still involved in karate and scouting. Keeping up with the boys is a full time job in itself.
When Katie and her family plan vacations, they always look for restaurants that really have show off the cuisine of their region. For them, the restaurants they go to are as important as the sights they see on their trips.
The Recipe
I have been invited to do a guest post on Cajun Chef Ryan's blog. For my guest post, I was going to cook an old family dish called "Page 47."  I know, it sounds strange, but that is what my grandma used to call this simple pasta dish that I would look forward to each time she made it.  You see it was on page 47 of some cookbook, but Lord only knows what cookbook, or what the actual name of the dish was.  To us, it was just Page 47.
Instead, I ended up cooking with my son – he is 7 years old and loves to be in the kitchen.  He started making suggestions about what to put with the ground beef I was cooking, so we ended up eating what he now refers to as Page 92….just a number he chose.
He had so much fun cooking – he was even talking about it this morning still.  He has always been interested in food; I think ingredient was one of his first large words.  Almost every day, unless he is playing a really cool video game, or isn't home, he watches me cook dinner.  He also has to critique every meal, which totally cracks me up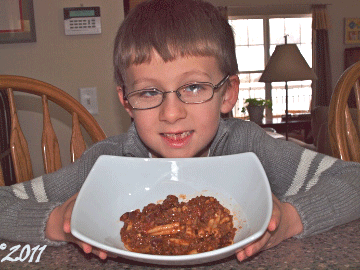 Katie's son and a bowl of Page 92, A modified, easy quick Chili Mac
Page 92 – named and created by my son and me. (A modified, easy quick Chili Mac)
Ingredients
2
Lbs.
Ground beef, lean
2
Tbsp
Olive oil
4
Cloves
Garlic, minced
1
Medium
Onion, diced
2
Cups
Beef stock
2
Tbsp
Chili powder
1
Tbsp
Cumin
1 ½
Tsp
Oregano
To taste
Salt and black pepper, fresh ground
1
15 oz
Can diced tomatoes
1
8 oz
Can tomato sauce
8
Oz.
Pasta, such as cavetelli
1
15 oz
Can chili beans
Optional
Mozzarella cheese, shredded
Procedure Steps
1.
Cook ground beef until done.  Remove from pan. 
2.
Add olive oil, garlic and onion; cook until softened. Return meat to pan. 
3.
Add seasonings, stock, tomatoes and sauce.  Stir to combine. Bring to boil, add pasta. Cook until pasta is very al dente.
4.
Add beans and cook until beans are warmed through – 2-3 minutes. Serve with grated mozzarella cheese if desired.
---
Thank you so much Katie for this great family recipe! I know your son will thank you years from now for allowing to be a part of your family cooking heritage!
Bon appetite!
CCR
=:~)
©2011 CCR