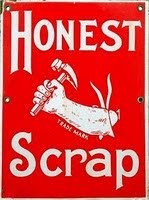 It is so nice to win awards especially when you least expect them and today I was given a blogger award known as the "Honest Scrap" award. I am not sure how or when this award got started, however, Doc from What's Cookin' with Doc's Blog named me and nine others for the coveted moniker this morning (Friday, January 22, 2010). Please check out Doc's blog when you get a chance, always good eating, and writing found on his pages. Thank you so much Doc for "nominating" me for the award today.
I have always wondered where these "awards" originate, and have seen some blogger's create their own, and this great too! However, where did the "Honest Scrap" award originate? After some short Internet research it seems to go as far back as December 2008, however confirmation is not available, and the originator is unknown as far as I can tell. However, "Honest Scrap" was a brand of chewing tobacco or snuff, and somehow became the icon for this award. I also found that originally the award was passed on to seven blogger's, so somewhere along the line it was moved up to ten bestowed awards.
I have to admit that several foodie blogger writers in the past year and a half have bestowed awards on my site and I have not given them the attention they deserved. Honestly, I can say that it is very hard for me to choose from the next iteration of blog's and authors who I must bestow the next round of awards to, but now I feel it is time to take a stab at this awarding process. Having matured in my blogging since CCR was born in May 2008, almost two years old now, I feel ready to accept the challenge and make the selection. I will have to search my archives for the past awards and possibly create a new page for "Awards" and back track to make up for lost time. My heartfelt apologies go out for all of you who have given me awards in the past and I have not participated, however, I will make it up to you in the future.
"Honest Scrap" Award Rules
The Honest Scrap award rules are simple:
Thank the person who "nominated" you and link back to that blog post.
Tell 10 honest things about yourself—and make them interesting, even if you have to dig deep!
Pass the award on to ten blogger's who you feel embody the spirit of the Honest Scrap, and whose blog's you find brilliant in design and/or content.
My "Honest Scrap"
Ten honest things about me, and in no particular order:
I was born in Lafayette, Louisiana, in the heart of Cajun Country, and lived in New Orleans, LA most of my life.
In 1987, I worked on the research vessel J. W. Powell while operating under the auspices of the National Undersea Research Program (NURP) as a Chief Steward while at sea in the North Atlantic Ocean and Caribbean Sea, and prepared three meals a day for a boat crew of 5 and up to 10 scientists. Learned how to scuba dive in between meals, and by the way, sharks can swim very fast….honest…they do!
Hurricane Katrina was not the work of the devil, but my family and I survived riding out the storm and the aftermath. If you click the hyperlink to the interactive map, our old house was located in Algiers, we hunkered down to ride out the storm in the F. Q., or French Quarter at my father in-laws business the Biscuit Palace.
I love to cook and have been doing so since I was 13 years old; I especially enjoy cooking with my dear wife, and love to write about it here on the CCR blog.
I met and worked with Julia Child on several occasions and she is one of my top culinary idols.
I worked for Emeril Lagasse at his home office known as Emeril's Homebase in New Orleans, LA as an IT technician in support of his 13 restaurants for 3 years before Katrina hit. Became laid off after the storm, and was asked to return 8 months later, but already found new work.
I was kidnapped in 1989 and survived 45 minutes of terror at gunpoint, and lived to tell about it.
I love my family, adoring my dear wife and in awe of my amazing son.
Obtained an associate degree in Culinary of Arts in 1986 as part of and American Culinary Federation (ACF) accredited apprenticeship program, and obtained a Bachelor's Degree in Business Information Systems in 2000, from over two years of night schooling at University of Phoenix (UOP).
Love to travel and hope to see the world someday, especially Europe, South America, and the South Pacific.
My "Honest Scrap" Nominations
Now on to the hardest part of selecting, the ten blog's to "nominate" this award, as I just wish the rules did not limit it to ten recipients (used to be only seven you know), as there must be a few hundred that I would want to add to this list, however, and in no particular order:
Again, my congratulations to all the blog's that I have "nominated" with the "Honest Scrap" award upon, and my apologies to those who I wanted to nominate but could not choose.