Yesterday we started the recount of our tour of Philly with In the City of Brotherly Love. And we are concluding today with Philadelphia city and culinary adventures…In the City where Freedom Rings!
On Sunday, before we headed out for breakfast, My Dear Wife decided that the hotel needed to know about our nocturnal hallway events, and they proceeded to give us a free dinner for two at Thirteen! Wow! We laughed, since we had just eaten at the same restaurant the night before, but this time it would be free. We did not expect to get anything from telling them about the night, but we were feeling even better now!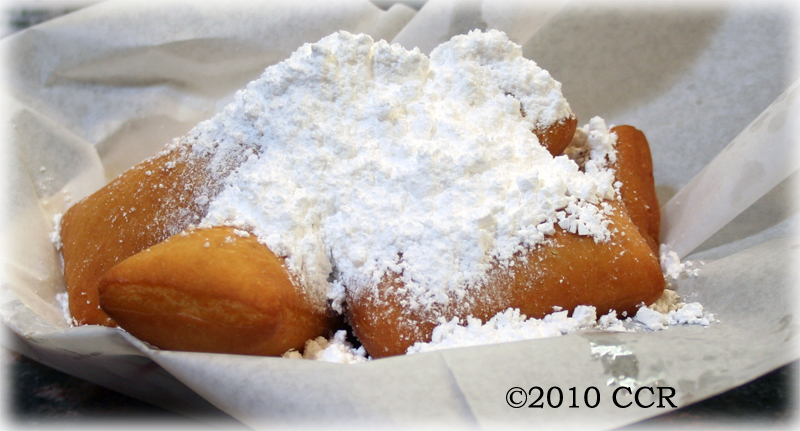 So we headed back to Beck's Cajun Café for some Beignets and Café au Lait, a real treat since they only make them twice a week on Wednesday's and Sunday's. It brought back memories of being at Café du Monde and ordering up a plate of the crispy French doughnuts with powdered sugar, ETL diet would have to be put on the back burner the rest of the week. The Community coffee with chicory was fantastic, and the first time I had that much coffee in me in months.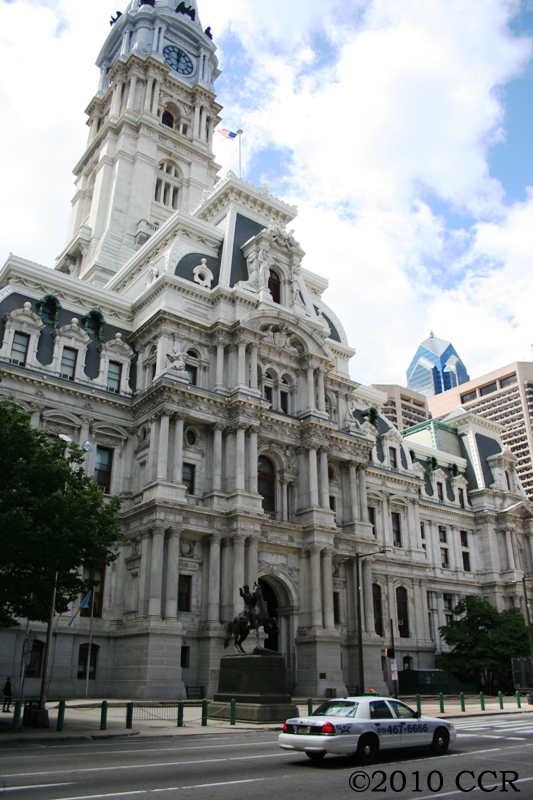 After breakfast, we headed west walking onto Benjamin Franklin Parkway; we walked around for several hours, just taking in the sights, sounds, and smells. The architecture in Philly is fantastic, including the image of city hall on the left. We were in awe of all the great buildings and fountains along the parkway. We happened upon the basilica of Saints Peter and Paul Catholic Church as a mass had just ended, after the parishioners exited, we entered the church and stumbled upon a guided tour of the interior. A fascinating thirty-minute tour filled with history and some amazing alters. Turns out the parish has only about 500 family's on their rolls and thus survives on hosting four weddings each weekend, for the fair price of $15,000 to rent out the sanctuary, it really is that beautiful inside.
The Cathedral Basilica of SS. Peter & Paul
Pennsylvania Railroad Building
After the tour, we continued our walk westward along Benjamin Franklin Parkway and then turned back to the hotel; I had to report for work around 2:00 pm that day. Once we finally met up with my co-workers on the conference team we decided to have some lunch together and beat feet back to the Reading Terminal Market for some deli delights. My Dear Wife had the Corned Beef sandwich and I ordered the Pastrami sandwich, both were amazing, my boss had a Reuben sandwich, and we got a taste of that as well.
Pastrami on Rye
Reuben Sandwich
After working for several hours to set up the registration desk we parted our ways, and My Dear Wife and headed back to the room to freshen up, then back to Thirteen for dinner. We were so pleased with the meal from Saturday night that we both ordered the same thing again, she the crab cakes, and I the stuffed peppers. We should have ordered something else, the salad with the crab cakes was completely different from the night before, and the stuffed peppers were slightly different as well. Still a very good meal, but not consistent with the same preparations as the previous meal, anyway, who could really complain with getting a free dinner.
For breakfast each day from Monday through Friday, we took advantage of the concierge lounge and enjoyed the fresh fruit, Danishes, oatmeal, scrambled eggs, coffee, juices, bagels, muffins, and such.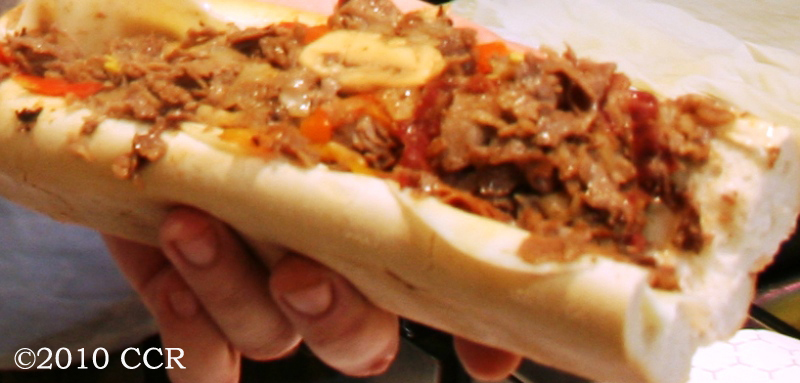 Typically, for lunch we would head out to the market for new flavors and tastes. So, Monday we finally got a taste of the popular Philly Cheese Steak sandwich, My Dear Wife and I split one with some garlic and spinach added, it was as good as any Cheese Steak I've ever had outside of Philly. The image at left is of another one made for someone else. By the way, if you ever want a really good Cheese Steak sandwich if you are in New Orleans, go to the Quartermaster Shack on Bourbon Street in the French Quarter, it is a little corner grocery store that also prepares meals and sandwiches.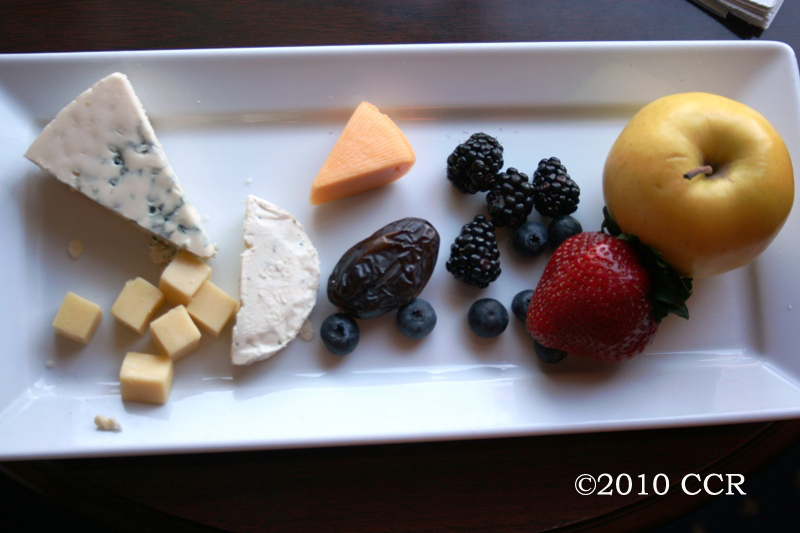 When we returned to our room that evening we found this nice fruit and cheese tray left as a complimentary treat, we snacked on this for the next day, the refrigerator we requested came in handy.
Each evening with the exception of Tuesday evening, we ate the complimentary salads, crudités, hor d'oeuvres, and desserts at the concierge lounge.
Tuesday, for lunch, My Dear Wife and I ate at Beck's Cajun Café again and I had the Chicken and Sausage gumbo and she the Red Beans and Rice. Both were good, but I have made and had better; however, we did enjoy the flavors of New Orleans in Philly. This is most likely our only disappointing meal at Beck's, it is hard to create good gumbo outside of Louisiana, and the red beans just needed more kick I think, I know Bill Beck can make it happen!
Tuesday evening we all ventured to the local Hard Rock Café located across the street from the hotel. We ordered and split the Grilled Hawaiian Chicken, which is billed as a semi-boneless half-chicken marinated for 12 hours in a fresh ginger soy marinade, then slowly oven roasted. The chicken is then finished on the fire grill, basted & topped with diced grilled pineapple and green onions. Served with White Cheddar smashed potatoes and fresh vegetables. My Dear Wife also ordered a side salad along with the chicken.
Thursday, for lunch we had our last lunch at Beck's, we split an Oyster Po-Boy, a quarter of a Muffeletta, and an order of Bread Pudding, see image at left. The oysters were crisp and huge and tasty, the oyster loaf was as good as any found in New Orleans. The Muffeletta was on par with most pedestrian loafs found on the street in NOLA, still hard to beat the Central Grocery on Decatur Street in the French Quarter. Of course, the Bread Pudding was amazing.
Friday, we packed up after breakfast we worked a half-day, packed up the conference materials, and headed for the airport and ate some of that kiosk Chinese food, which was okay for airport food courts.
Here are a few more images from our time in Philly!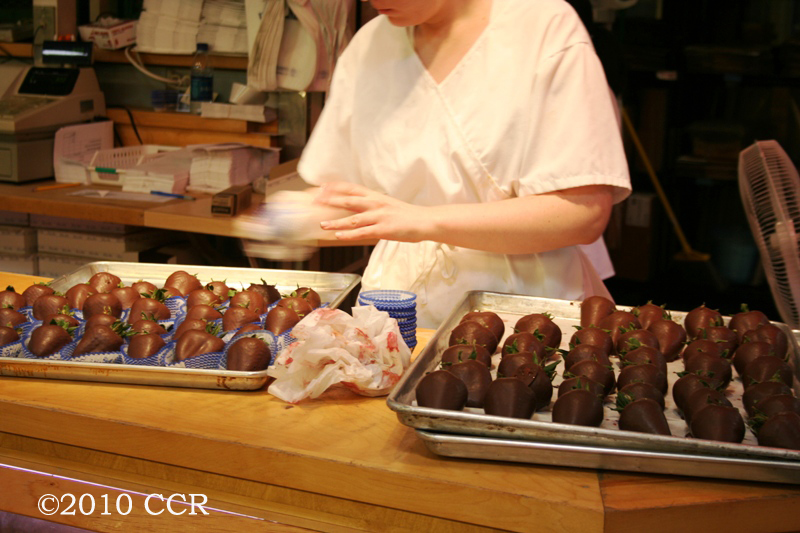 Chocolate Dipped Strawberries at the market
Produce Stand at the market
Rocky Balboa Statue