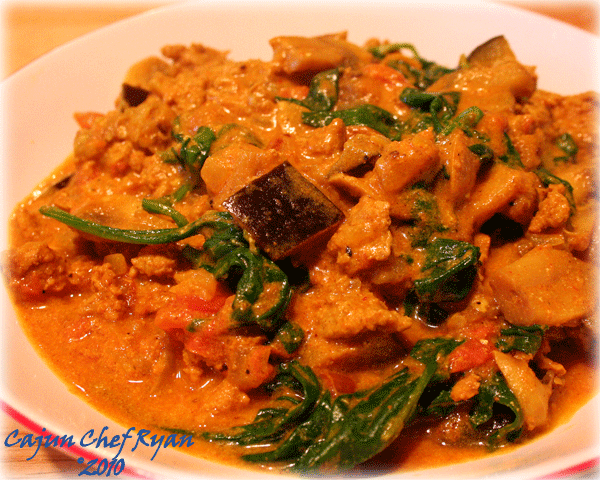 Turkey Curry Skillet
I am a huge fan of curry, and when I can get it I just love trying out the various styles that are available. Several of the curry styles encompass Indian, including Bengali, Pakistani, Tamil, and South Asian, including Thai, Chinese, Japanese, Vietnamese, and British is another region.
The richness and smoothness of the curry as it hits your palate it explodes in flavor that takes on an earthy delight. The word curry is sort of a generic term used to describe soups, stews, and a variety of spiced dishes, but the term is derived from the Tamil word for "gravy" or "sauce", rather than a reference to the spices of the dish. An interesting twist on how different cultures have molded the dish to suit their own regional cuisines.
I started putting together a quick lunch dish of ground turkey and vegetables and decided to make it seasoned up with some curry powder and other spices, this is the result.  I hope you like it as much as we did! Once I portioned out the two servings, I added some additional heat with a sprinkling of red chili flakes on my portion.
Ingredients
½
Tbsp
Olive oil
½
Lb.
Turkey meat, ground, fresh
½
Cup
Onions, small diced
¼
Lb.
Mushrooms, sliced
1
Cup
Tomatoes, diced
1 ½
Cup
Eggplant, diced
1
Tsp
Turmeric
1
Tbsp
Curry powder
¼
Tsp
Ginger, ground
¼
Tsp
Celery salt
1
Tsp
Finger Lickin' Rub
2
Cups
Spinach, baby leaves, fresh
½
Cup
Sour cream, tempered
½
Tsp
Red chili flakes (optional)
Procedure Steps:
1.
Heat the olive oil in a medium sauté pan and brown the turkey meat until most of the pink is gone, then add the onions and cook until soft, add the mushrooms and sauté until browned.
2.
Add the tomatoes, eggplant and spies and stir well. Cover and allow simmering over medium heat for about 10 minutes. This allows the tomatoes and eggplant to stew down a bit and absorbs the flavors of the spices.
3.
Add the spinach leaves and fold in until just wilted. Turn off the heat.
4.
Gently fold in the sour cream until incorporated.
To Serve: Portion into two bowls, sprinkle with the red chili flakes if desired for more heat.
Yield: 2 portions
Another view….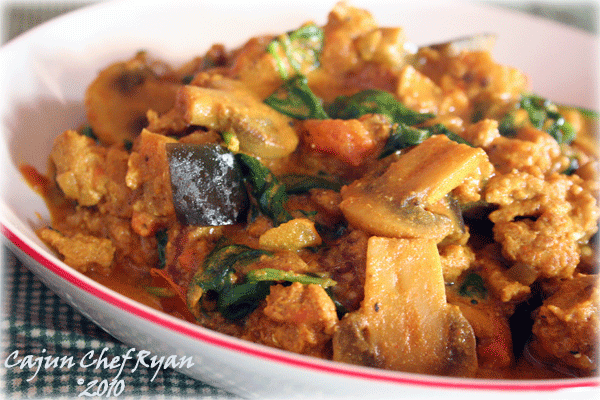 Turkey Curry Served
Bon appetite!
CCR
=:~)
©2010 CCR