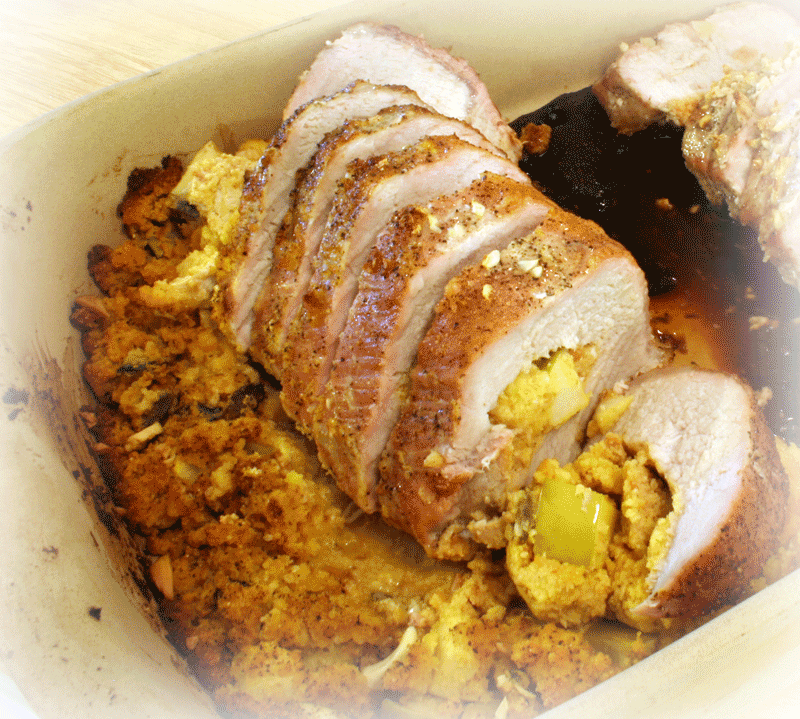 This is one of my favorite holiday meals and I have been making this dish since the late 1980's after I first learned about a mesquite roasted version of the preparaton from Chef John Draz who was chef at The Winnetka Grill near Chicago, Illinois. The original restaurant burned down in 1996 and has since been shuttered and Draz has moved on to other lofty chef duties but the recipe remains alive in this version and my variation.
I have prepared this pork loin roast for restaurant buffets, holiday brunches and for family holiday meals and it has always been a popular dish. I just made this dish again last week while my parents were in town, and it was a treat for them too. In this instance I used some of the pumpkin seed and cheddar cornbread muffins that I posted earlier this week, but any cornbread will do for the stuffing of the pork loin.
Ingredients

1

Piece

Boneless pork loin trimmed (3 pound average)

2

Each

Granny Smith Apples, cored and small diced

½

Lb

Ground bulk pork sausage (no skin), fresh, cooked and then drained

3

Cup

Cornbread, crumbled

1

Cup

Apple cider

½

Cup

Apple brandy or Calvados

2

Tbsp

Fresh parsley, chopped fine

1

Tbsp

Fresh rosemary, chopped

½

Tbsp

Fresh thyme, chopped

To taste

Salt and white pepper

Sprinkling

Coarse salt and fresh cracked black pepper
Procedure Steps

1.

Pre-heat the oven to 325° F.

2.

To stuff the pork loin take a long bladed knife and cut through the center of the loin making a 2 to 3-inch slit the entire length.

3.

To make the stuffing combine the remaining ingredients in a large bowl and mix well ensuring there are no large lumps of apple, ground pork or cornbread. This mixture will be somewhat moist. If too dry, add more cider or apple brandy.

4.

Put the stuffing into a pastry bag or use a large gallon zip type bag. If using the zip type bag, use scissors to cut a small 1" from one corner of the bag.

5.

With the bag of stuffing force the mixture into the loin from both ends until it is filled well. If you have extra stuffing it can be placed around the outside of the loin just prior to roasting (see step 7).

6.

Season the outside of the loin by sprinkling it with the coarse salt and fresh cracked black pepper.

7.

Place the loin in a large roasting pan with the remaining stuffing and cover, then into the pre-heated oven for 1 ½ hours or until an internal temperature of 160° F is reached.

8.

Remove from oven and allow to rest for 20 minutes before carving.

9.

Serve with the Brandy Demi-Glace Sauce
Brandy Demi-Glace Sauce
Ingredients

1

Ounce

Butter, unsalted

2

Ounces

Apple brandy or Calvados

¼

Cup

Shallots, minced

2

Cups

Apple Cider

2

Cups

Veal Demi-glace or beef stock

½

Cup

Heavy Cream
Procedure Steps

1.

Melt butter in a large sauce pan and then add the shallots and sauté until translucent.

2.

Remove the pan from the heat and add the apple brandy to deglaze the pan, it may flame.

3.

Then add the apple cider and bring to a rolling simmer to reduce the liquid volume by half. If using beef stock add it now as this intensifies the flavors and allow to reduce by half.

4.

If using veal demi-glace add it now and simmer another 5 minutes, skim any scum that might form on the top.

5.

Allow to come to a boil, then reduce heat and whisk in the heavy cream.

6.

Strain the sauce through a fine strainer and reserve for serving with the pork.