There must be about as many variations as there are the folks who make their own gumbo. I made a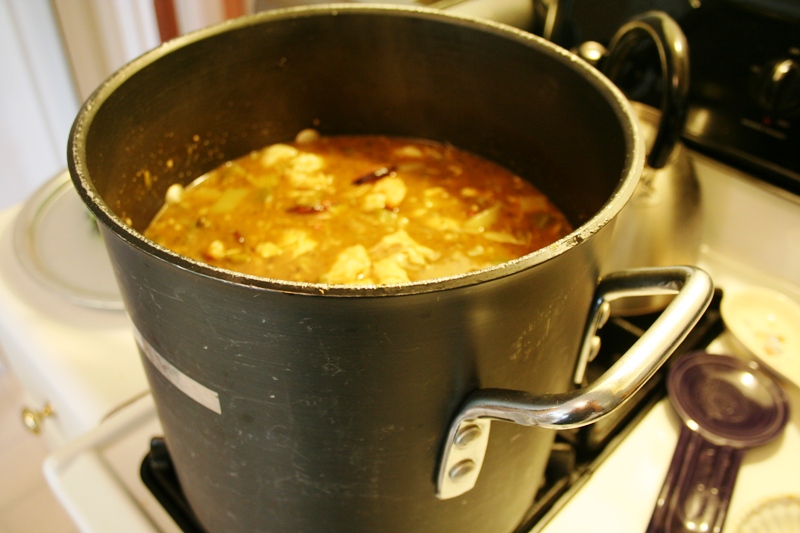 gumbo on Sunday afternoon and as usual it was a little different this time around. Some of the various gumbos out there include Filé Gumbo, Okra Gumbo, Seafood Gumbo, Gumbo Z'Herbes, Chicken Gumbo, Duck Gumbo, and on an on.
This time around I made a chicken, sausage, shrimp, filé and okra gumbo, and it has a roux in it too! At home I'll make at least 2 to 3 gumbos a year, mostly at request of the family and this time around it was for Benjamin's birthday request. He wanted a seafood gumbo, but I could not get the blue gumbo crabs so I opted for the chicken variety, it is also not as expensive as the full blown seafood gumbo with crab, shrimp and oysters.
If you can get a hold of gumbo crabs they really do add a spectacular flavor to a seafood gumbo. Gumbo crabs are the ones that are too small to eat boiled and are usually sold frozen in bags of 6 or a dozen, and typically just need to be rinsed and cleaned a bit. I add them to my seafood gumbo in the middle of the preparation and there is nothing like it to adding that extra background flavor. When serving a seafood gumbo to guests I like to include one of the crab halves in every bowl, eating that gumbo soaked crabmeat is a real treat.
The gumbo recipe here is the one I made on Sunday, and it also has some Tasso in it, which is a highly seasoned pork shoulder meat. It is highly seasoned with a Cajun spice rub and then smoked with hickory, oak, or pecan wood in a cool smoker until dried. You can order it from various Cajun meat purveyors or it can be omitted, however, it imparts extra smoky and spicy flavoring to any gumbo or Cajun dish.
Chicken Sausage Gumbo
Yield: 3 gallons
Ingredients
½         lb         Butter
½         lb         Flour
3          cups     Onions, large dice
3          cups     Celery, large dice
3          cups     Green bell pepper, large dice
¼         cup       Garlic, minced
1          each     Whole chicken, 4 pound average
To cover          Water, cool with 2 Tbsp Chicken base OR
                        Chicken stock, cool
2          lbs        Andouille sausage, sliced 1/4" thick
½         lb         Tasso, small diced
2          cans     Stewed tomatoes, 14 ounces each
2          lbs        Okra, sliced
1          Tbsp    Italian Seasoning
1          each     Bay Leaf
1          Tbsp    Worcestershire sauce
1          Tbsp    Hot sauce
2          Tbsp    Filé
2          lbs       Shrimp, 21-30 count, peeled and deviened (P&D)
1          bunch  Green onions, chopped
To taste            Salt and white pepper
Preparation
First you make a roux. In a large cast iron skillet or sauté pan melt the butter then whisk in the flour until dissolved. Then over a medium heat stir the mixture with a wooden spoon until the very dark stage, it will start to take on a nutty smell like toasted almonds. Remove from the heat and continue to stir for a few minutes and allow to cool.

Clean the chicken and remove any excess fat and rinse well in cool tap water. Place the whole chicken into a large stock pot and cover up to an inch above it with the chicken stock. OR cover with cool tap water and add 2 tablespoons of chicken base. Place the stock pot on the stove over high heat and bring to a boil. Reduce the heat and simmer for about an hour, or until the chicken starts falling off the bone. Once the chicken meat is cooked, remove it from the stock and place into a large bowl to cool.

While the chicken is simmering prepare the onions, celery, bell peppers (Trinity) and garlic and have them ready. Open the two cans of stewed tomatoes.

After the chicken is removed from the stock turn up the heat to high and add the Andouille sausage and the Tasso to the stock pot and stir well. Then add the Trinity and the garlic and stir well. Then add the two cans of stewed tomatoes, Italian seasoning, bay leaf, Worcestershire sauce, the roux which should be at room temperature, and hot sauce and stir well. Bring to a boil and then reduce heat to a simmer.

Once the chicken is cooled remove the skin and discard it, then pull the chicken meat from the bones and cut larger pieces of meat into bite sized pieces and reserve the meat until later.

In the stock pot add the okra, stir well and bring back to a simmer until the okra is cooked.

In a medium mixing bowl add the filé and about a ½ cup cool tap water. Then whisk the file into a slurry until all the dry powder is dissolved. Fold in the slurry into the gumbo. Simmer for a few more minutes until well incorporated into the gumbo.

Gently fold in the reserved chicken meat the shrimp and chopped green onions into the gumbo.

Allow to simmer until the shrimp are pink and heated through.

Season to taste with salt and pepper.
Serve with fresh cooked white or brown rice and some crusty French bread. And don't forget to put the hot sauce on the dinner table too!