I had the fortunate opportunity to highlight my Cajun Spice Blend and Finger Lickin' Rub Blend at the NC Specialty Shops in Wake Forest, NC this past weekend and it was a blast. I want to especially thank my family and friends who came out and supported me during the demonstration and food tastings. And for those other folks who got a chance to taste some of my flavor at Saturday's tasting you were one of about 105 who got a sampling portion of either the Cajun Chicken and Sausage Jambalaya or the Black and Bleu Chicken. I have already posted the Jambalaya recipe but did not post the other, so I am going to add that one now as I had also promised that I would to some of the very nice people who asked for it on Saturday. This was the first time in over eight years that I had prepared food in a public setting having left the production side of the restaurant industry in July 2000.
The recipe for Black and Bleu Chicken originated as Blackened and Blue Chicken in the late 1990's and was a featured sandwich on the menu at the City Energy Club in New Orleans, formerly known as the Petroleum Club, and was located on the top two floors of the Energy Center on Loyola Avenue. The club has since shut down when Club Corp of America (CCA) either closed or sold most of its operations in Louisiana including Belle Terre Country Club in La Place and the Camelot Club in Baton Rouge.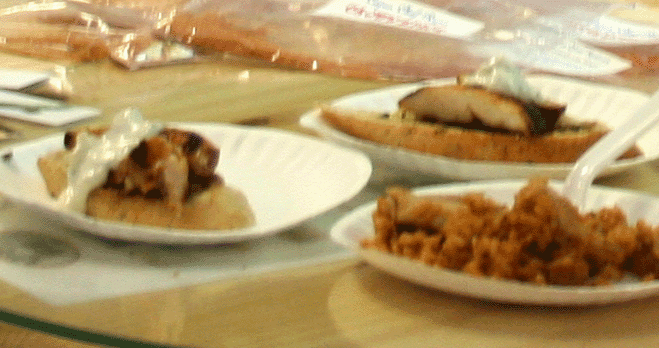 The sampling portion that I prepared can easily be converted to the original sandwich form using a larger bun or roll shaped bread, adding a bit more chicken and dressing, and some lettuce and tomato. However I will recreate the recipe in the bite size tasting format that I prepared on Saturday. I am not going to share my formula for my Bleu Cheese Dressing since it is a contender on the list for future bottling production and sales, but you can use any refrigerated blue cheese dressing that contains thick hearty chunks of the aged cheese.
So this version of the recipe makes a perfect party or appetizer portion for any entertaining opportunity. Also, this recipe uses a fresh basil paste that I make up using some of my garden harvest and some fresh garlic from the farmers market, it is not a true pesto since I do not use any nuts, but a basil pesto can be substituted if you wish.
Black and Bleu Chicken

 

Yield: 25 tasting portions

 

Ingredients

 

1

Loaf

Whole Grain French Bread

2

Lbs.

Boneless, skinless chicken breast

1

Tbsp

Cajun Chef Ryan Cajun Spice Blend

To coat

Olive Oil

1

Cup

Blue Cheese Dressing

1

Cup

Basil Paste (see recipe below)

 
Procedure Steps

 

1.

Heat a cast iron skillet or griddle on the stove top to get very hot.

2.

Slice the loaf into 25 thin pieces on a bias cut and then set them aside on a sheet pan.

3.

Cut the chicken breasts in half to form two thinner pieces then coat them with the olive oil and sprinkle lightly with the Cajun Spice Blend. You want to have at least four thinly cut chicken breast pieces.

4.

Gently add half of the chicken breast flat onto the hot skillet or griddle. Allow them to cook until the edges start to turn opaque or white, then turn them over to finish cooking which is approximately 6 to 8 minutes per side.

5.

Reserve the chicken until all pieces are done and allow them to rest 5 minutes before slicing.

6.

Coat each side of the sliced loaf bread with the basil paste and add them to the skillet or griddle and brown until crusty on both sides, and about 2 to 3 minutes per side, then line them up on the sheet pan.

7.

Thinly slice the chicken and place two pieces onto the top of each piece of crusty bread, and then put a small 1 Tsp dollop of the blue cheese dressing over the middle of each portion.
 

Basil Paste

½

Cup

Fresh Basil leaves, chopped fine

¼

Cup

Garlic, minced

1

Cup

Olive oil

½

Cup

Parmesan Cheese, freshly shredded

½

Tsp

Black Pepper, freshly ground

½

Tsp

Coarse sea salt

 

Procedure Steps

 

1.

Combine all ingredients into the bowl of a food processor and pulse until a smooth paste consistency is achieved.