HAPPY

MARDI

GRAS

!!!!
First, I will share with you some of New Orleans Mardi Gras music with a few videos of famous New Orleans musicians. Then you can view what New Orleans Mardi Gras looked like in 1941, sixty-nine years ago. Next is a list of all the parades in New Orleans today, starting with Zulu and ending with truck parades. Then you will need to take a quiz. Yes folks, there is a test on today's blog, it is a Mardi Gras Quiz on delish.com, Foods of New Orleans. All quizes will be graded at the end of class! But, if you need help I have plenty of links to Mardi Gras food sites that can help you answer all the quiz questions. And then we wrap up with all the previous Mardi Gras links in the series.
Music
These are some of the lyrics from the song "It's Carnival Time" made famous by Al Johnson, and featured in the video below. Al is singing at a Louisiana Music awards, after being inducted into the Louisiana Music Hall of Fame.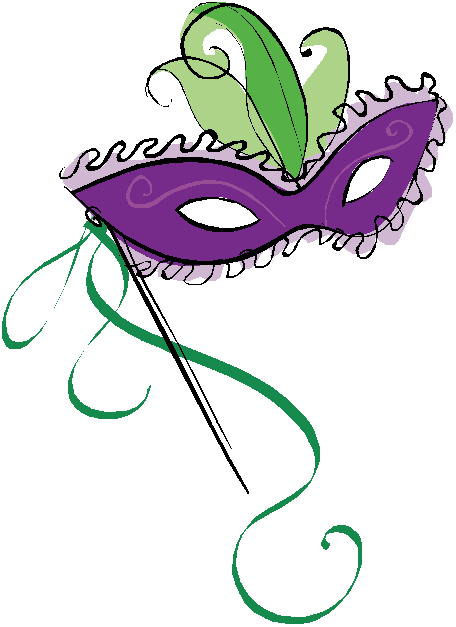 The Mardi Gras Series

Join me with Drick Perry and his Drick's Rambling Café as we celebrate the Mardi Gras season while he reports on the Mobile, AL festivities, and you can view today's post on Fat Tuesday, and follow along with the Cajun Chef Ryan blog as we feature the New Orleans Mardi Gras.
New Orleans is famous for not only the wonderful food, but the great music and spirit too, one of the great traditions about Mardi Gras in New Orleans is the wonderful music, and here is Dr. John, singing Mardi Gras Mambo…
New Orleans Mardi Gras Day Parade Schedule
The big day is finally here, and today marks the biggest day of the Mardi Gras holiday carnival celebrations. Traditionally the Krewe of Zulu rolls early in the morning, around 8:15 am in Uptown and their most famous throw is the decorated coconut.
The schedule parades for Mardi Gras day in the metro New Orleans area are listed below, but for full coverage with live web cams on some parades goto NOLA.com and their New Orleans Mardi Gas 2010 page:
Orleans Parish
• Zulu – Uptown, 8:15 a.m.
• Rex – Uptown, 10 a.m.
• Elks Orleans – Uptown – after Rex
• Crescent City – Uptown – after Elks | Watch live Argus – Metairie, 10 a.m.
• Elks Jefferson – after Argus
• Jefferson Trucks – after Elks
West Bank
• Grela – West Bank, 11 a.m.
• Bes – West Bank, after Grela
St. Tammany Parish
• Lions – Covington, 10 a.m.
• Covington – after Lions
• Chahta – Lacombe, 1 p.m.
• Folsom – Folsom, 1:30 p.m.
Here is what New Orleans Mardi Gras looked like sixty-nine years ago in 1941…
Mardi Gras Food
First, take the Mardi Gras Quiz on delish.com, Foods of New Orleans, see if you know your Mardi Gras foods! Of course, I got a 10 out 10 correct.
Mardi Gras Quiz: Foods of New Orleans
And now, some of the great Mardi Gras foods, another New Orleans tradition and heritage.
Tom Fitzmorris is a local New Orleans food critic; media personality with a weekday radio show devoted to food appropriately named "The Food Show", and author, here is his take on Mardi Gras foods with A New Mardi Gras Idea, and Today's Food Almanac too!
Doug DuCap from Hugging the Coast blog has a great list of seafood recipes for Lent (which starts tomorrow) 18 Inspiring Seafood Recipes for Lent (Or Just For Fun)
In addition, if you are looking for some good old New Orleans recipes, the Picayune Creole Cook Book is available on Google Books; check out Doug's post on Read a Cookbook for Free: The Picayune Creole Cook Book.
And finally, here is Doug's collection of memorable Mardi Gras Recipes, Memorable Mardi Gras Recipes: Celebrating Fat Tuesday in Style
Other Mardi Gras recipe resources:
Entries Tagged as 'Mardi Gras' on the CCR blog
Mardi Gras Celebration – Louisiana Recipes and Food Traditions – About.com
Mardi Gras Recipes on Epicurous.com
RECIPES FROM THE CITY OF EUNICE, LOUISIANA
More about this series:
New Orleans Mardi Gras Food Images
King Cake freshly
iced and sugared
A slice of King Cake
Crawfish Bisque
Roast Beef Po-Boy
Pot of Gumbo
Tasso
Beignets
Maple Chili Wings
Oysters Rockefeller
Jambalaya