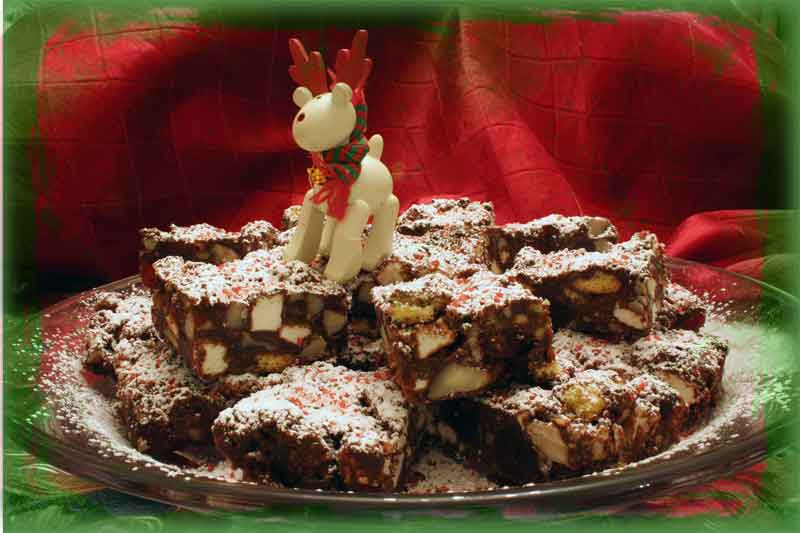 On my daily commute to and from work, I typically listen to NPR radio for the majority of my news fix, which makes up for the lack of getting the daily print newspaper, and I rarely watch the news on the tele anymore either. One of the NPR treats that I enjoy is the food features that I happen to catch including updates from Nigella Lawson and the Kitchen Sisters, among others they will broadcast. On November 30, 2009, NPR featured Nigella promoting her Nigella Christmas cookbook and in particular, I was fascinated with her new take on a rocky road dessert treat. The original recipe can be found at the story titled: Nigella Offers Simple Recipes For Holiday Cheer. I like the way Nigella tweaked this recipe from her original where she uses the amaretti cookies instead of plain, and adds some candied cherries just as red as Rudolph's nose, along with some Brazil nuts, and then the snowy marshmallows and snowfall of confectioner's sugar make this a perfect Christmas dessert treat. Click on image for a larger view.
Nigella also listed the weight of most of the ingredients, and this makes sense because baking and pastry is more of an exact science when compared to the culinary side of cooking. Temperature, humidity, and air pressure can change the weight of certain ingredients such as flour, baking soda, cornstarch, etc…that is why nearly all pastry shops, bakeries, and professionals will have recipes with weight measures instead of volumes. Therefore, I have listed all of the exact weights here as well.
Our first Christmas party we are attending is slated tonight (Friday 12/04/09) and with it being a potluck event I told Monique about the Rocky Road dessert I heard about on NPR and she said it reminded her of the Heavenly Hash cake that my mom makes. Therefore, I've taken the original Nigella recipe that she tailored and tweaked it a bit too (*see note below), and here it is shared with my foodie friends and followers.
*NOTE: The original recipe calls for 2/3 cups of candied cherries, I rounded this up to 1 cup, and instead of dusting the whole block of Rocky Road Heavenly Hash with confectioner's sugar before cutting as Nigella does it; I have switched the order here and dusted the squares with the powdered sugar after cutting. Just seems easier to handle them, and that way some of the confectioner's sugar snowfall can decorate the serving plate or platter too.
Nigella also offers these tips:
Make ahead tip:
Make the Rocky Road and refrigerate to set. Don't add the confectioner's sugar yet, but cut into bars, then store in an airtight container in a cool place for up to 1 week. Decorate with confectioner's sugar and edible glitter about 1-2 hours before serving.
Freeze ahead tip:
Make the Rocky Road as above and freeze for up to 1 month. Thaw overnight in a cool place. Decorate as above.
Ingredients
Weight
Volume
8 oz
1 ¼
Cups
Bittersweet chocolate chips
6 oz
¾
Cups
Milk chocolate chips
6 oz
1 ½
Sticks
Butter, softened
2 oz
¼
Cup
Light corn syrup
7 oz
4
Cups
Amaretti cookies, (not the hard ones)
8 oz
1
Cup
Brazil nuts
8 oz
1
Cup
Candied or glazed cherries, whole
12 oz
2 ½
Cups
Mini marshmallows
Non-stick cooking spray
1 oz
1
Tbsp
Confectioner's sugar
Optional
Edible glitter
Procedure  Steps
1.
Put both chocolates into a heavy-based saucepan to melt with the butter and syrup over a medium to low heat. Stir periodically with a wooden spoon.
2.
Put the cookies into a freezer bag and bash them with a rolling pin to get big and little-sized crumbs; you want some pieces to crunch and some sandy rubble. Put the Brazil nuts into another freezer bag and bash them so you get different-sized nut rubble.
3.
Once all the chocolate and butter is melted take the saucepan off the heat, and pour the contents into a large mixing bowl, and then add the crushed cookies and nuts, whole candied cherries and mini marshmallows. Turn carefully to coat everything with syrupy chocolate.
4.
Lightly grease or spray with non-stick spray a 9 x 12 inch aluminum foil-baking pan and then pour the mixture into it then evenly smooth and press the top with a rubber spatula to ensure there are no air bubbles or open gaps, it will look bumpy on the top and this is okay.
5.
Refrigerate until firm enough to cut, which will take about 1 ½ to 2 hours. Then take the set-up block of Rocky Road Heavenly Hash out of the aluminum foil pan, it is now ready to cut.
6.
With the long side in front of you, cut it into 6 slices down and 4 across, so that you have 24 almost-squares, or if you want petit four size pieces you can make 6 slices down and 8 slices across for smaller sized portions, or about 48 pieces.
7.
Gently tap the confectioners' sugar through a small strainer to dust the top of the Rocky Road Heavenly Hash. Then, if you like, add sprinkling of edible glitter for some festive sparkle.